Warship diplomacy: Chinese fleet tours Gulf in bid to build ties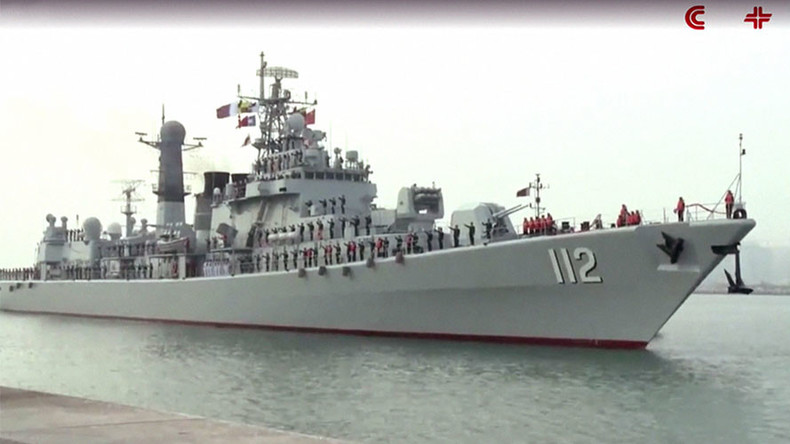 Three Chinese military vessels have docked in Doha, Qatar, as China seeks to match its economic power with a more prominent international role.
The Chinese fleet, comprising Harbin, a destroyer, Handan, a frigate, and Dongpinghu, a supply ship, was welcomed with an honor ceremony in the Qatari capital at the start of a 5-day visit on Saturday.
"During the visit, naval officers from the two countries will exchange views to enhance friendship and further learn from each other," said Bai Yaoping, commander of the 24th escort fleet told the Chinese state channel CCTV.
In a trip that has been highly-publicized in Chinese-language media, the fleet has already visited Saudi Arabia, and will next dock in UAE and Kuwait.
Chinese vessels have played an important role in keeping pirates at bay in the Gulf of Aden, which is where the three ships operated immediately prior to the tour. Iran and China combined on naval drills in 2014, but this is the first such tour of the Gulf States since 2010.
Sailors from the host countries and the guest vessels are expected to pay visits, while Chinese officers were given a tour of the strategic command of the Saudi navy while in Jeddah.
Although China has been trying to project itself as a naval power, not least due to its ongoing disputes over the South China Sea, there are likely broader motivations at work than mere exchange of naval expertise.
China's growing military export business is seeking to establish a foothold among the Gulf States, which have some of the highest defense budgets in the world. China's economy also continues to rely on oil produced in the region.
After maintaining a relatively neutral stance on diplomatic issues outside of its immediate sphere of influence in the previous decades, Beijing has recently pursued a more active role, with its mixture of peacekeeping missions, diplomatic initiatives and joint projects. The process may accelerate if the rift between the US and China grows in the next four years of Donald Trump's presidency, with a senior Beijing official saying that if "China is required to play [a world] leadership role, then China will assume its responsibilities."
"If anyone were to say China is playing a leadership role in the world, I would say it's not China rushing to the front but rather the frontrunners have stepped back, leaving the place to China," Zhang Jun, the director-general of the Chinese Foreign Ministry's international economics department, told assembled journalists in Beijing on Monday.
You can share this story on social media: