Trump's notion that nations should be free to pursue own interests is 'great gift' – Hungarian PM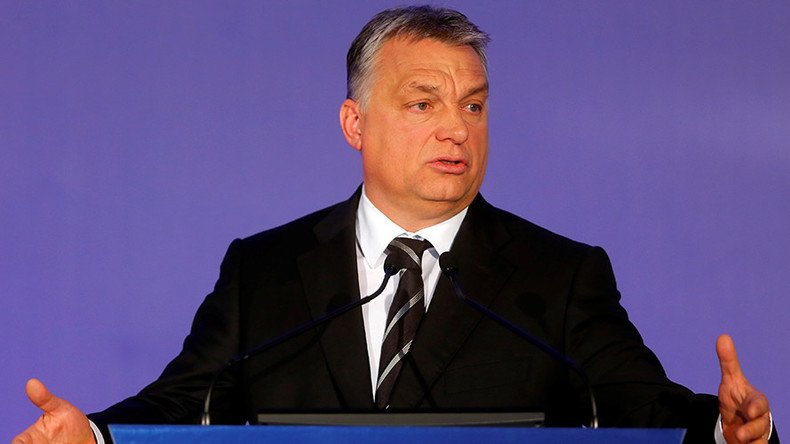 In his inauguration speech, President Donald Trump said he will herald in an era when the US no longer imposes its policies on other countries. Hungarian officials see this as a go-ahead to pursue their county's own interests, calling it "a great gift."
"We have received permission from, if you like, the highest position in the world so we can now also put ourselves in first place," Viktor Orban said on Monday, referring to Trump's statements. "This is a great thing, a great freedom and a great gift."
His words were mirrored by Hungary's foreign minister, who said Budapest is eager to see the US discard its long-standing practice of "exporting democracy" to other nations.
"If that stops, this would be a very good development for us, and for the entire world too," Peter Szijjarto said during a visit to Moscow.
In his inaugural speech on Friday, Trump promised that Washington "will seek friendship and goodwill with the nations of the world."
"But we do so with the understanding that it is the right of all nations to put their own interests first," he added.
"We do not seek to impose our way of life on anyone, but rather to let it shine as an example," he stressed.
Speaking at an economic forum in Budapest, Orban said he would prefer it if Francois Fillon won the presidential election in France, noting that with Fillon in power in Paris and Trump expected to bring a change of attitude to Washington, Hungary would be in a better environment to independently deal with other countries, including Russia.
The Hungarian PM has been critical of the EU's economic sanctions against Russia, which were strongly championed by Trump's predecessor, Barack Obama.
Meanwhile Fillon, who is visiting Germany to meet with Chancellor Angela Merkel, has branded the anti-Russian sanctions as "totally ineffective."
"We must find another way to talk," he told journalists, adding "I do not want Trump to talk with Russia at our expense. It would be damaging for Europe if Trump went above our heads, which is not inconceivable."
He also said that he and Merkel had agreed on the need to prevent the US from imposing its laws on Europe extraterritorially. European companies, particularly banks, have paid out billions of dollars in fines and other settlements due to violations of American sanctions against other countries.
"French and Germans are on the same page on the fact that we cannot let those rules – that are made for the United States, for the US banking system, and that are totally negative tools for Europe – be imposed on us," he said.
You can share this story on social media: