Milk hits the fan: Farmers spray EU council building with dairy powder (PHOTOS, VIDEOS)
Farmers have sprayed a ton of powdered milk at the build of the European Union Council in Brussels in protest against EU policy towards the milk industry, local media report.
Farmers claim that they have been driven to the brink of bankruptcy, as rising production costs hit the agricultural sector's profits.
"This is a wakeup call showing that the main problem hasn't been resolved," said one of the protesters, Henri Lecloux, member of the Movement of Farmers' Action (MAP), as cited by Ouest-france newspaper.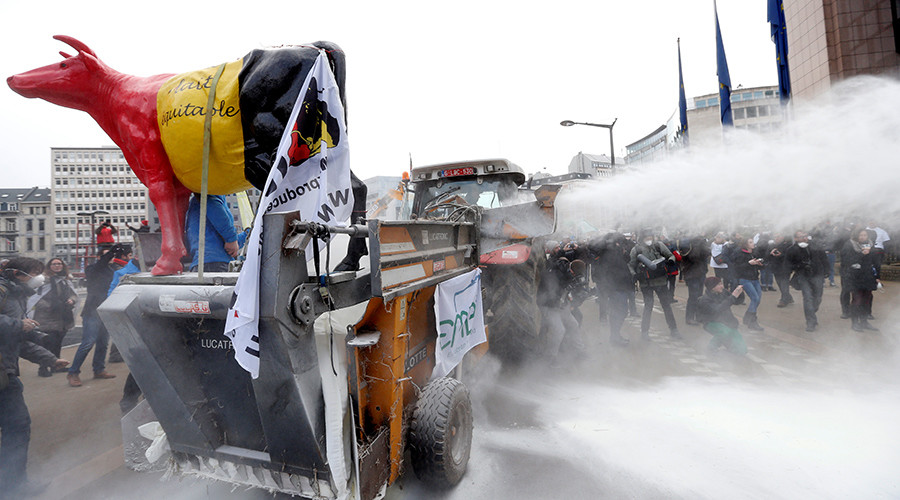 The dairy farmers, who are members of the European Milk Board (EMB), gathered in front of the EU headquarters where a monthly meeting of EU agriculture ministers is being held.
"At present, milk prices pass the 30 cent mark, but with production costs at 45 to 50 cent per kilo of milk, we still suffer significant losses," Sieta van Keimpema, Vice-President of the European Milk Board, added.
The EU Executive Commission approved several support measures in 2016, but they did not appear to help, and the price of milk remains low.
One of the protesters, Yvon Deknudt, who has a farm in the Braine-Le-Comte municipality in Belgium, told RTBF that with his 65 cows, he barely receives enough to balance his accounts.
"With this price of 32 cents [for a kilo of milk], today I am able to pay my bills, but I can't pay my debts," he said.
The EU Agricultural Commission says that the move to release milk powder onto the market "reflects encouraging signs of recovery" in the industry.
Farmers from Belgium, Germany, France, the Netherlands and Lithuania have joined the protest, according to Belgian media.
You can share this story on social media: