US counter-intelligence probed Trump security adviser Flynn over alleged ties with Russia – WSJ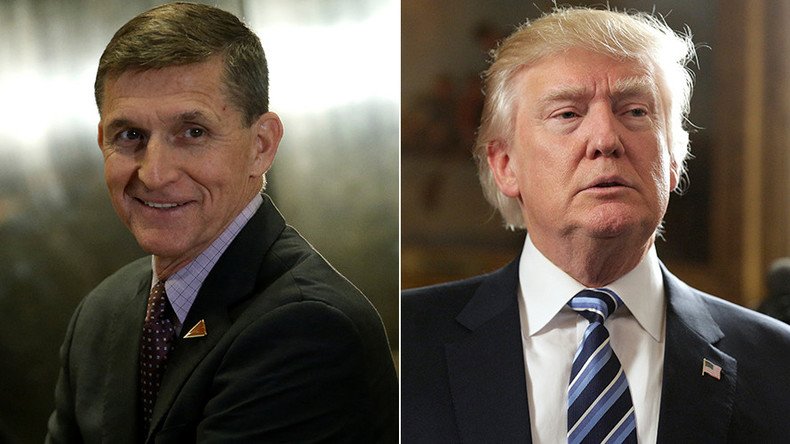 US counterintelligence has investigated one of Donald Trump's security advisers, Michael Flynn, for having alleged ties with Russian officials, the WSJ reports, noting that the probe concerns phone conversations Flynn had at the end of December.
"US counterintelligence agents have investigated communications that President Donald Trump's national security adviser [Flynn] had with Russian officials," the Wall Street Journal said, citing people familiar with the matter.
The aim of the investigation was to determine "the extent" of contacts between the Russian government and "people close to Mr. Trump," claimed the paper.
It's still unclear when the investigation began or if it is still ongoing.
The main target of the investigation is "a series of telephone calls" which Flynn allegedly made to Sergey Kislyak, the Russian ambassador to the US, on December 29, 2016 – the same day outgoing president Barack Obama announced that his administration was imposing more sanctions on Russian individuals and companies that the US government suspected of hacking American institutions ahead of the election.
According to the WSJ, General Flynn, a retired US Army lieutenant, "is the first person inside the White House under Mr. Trump whose communications are known to have faced scrutiny" from the Federal Bureau of Investigation (FBI), Central Intelligence Agency (CIA), National Security Agency (NSA), and Treasury Department.
READ MORE: US issues more sanctions on Russia over alleged election hacking
The WSJ reported that the Senate Intelligence Committee was also involved in investigating "any possible collusion" between Moscow and people linked to Trump.
In the meantime, White House spokeswoman Sarah Sanders has denied having any information about such an investigation.
"We have absolutely no knowledge of any investigation or even a basis for such an investigation," she said.
The WSJ noted that contacts between American officials and foreign officials could be traced by the NSA "because the US conducts wide-ranging surveillance on foreign officials." According to White House Press Secretary Sean Spicer, Flynn and Kislyak had discussed arranging a conversation between Trump and Russian President Vladimir Putin."
READ MORE: Trump security adviser Flynn faces allegations of sharing secret data, despite being cleared
This is not the first time Flynn's name has surfaced in the media in connection with allegations. In December of 2016, the Washington Post reported that he had "inappropriately shared" classified data with foreign military in Afghanistan.
An unnamed source in Navy Intelligence accused Flynn – who was then a Major-General serving as US military intelligence chief in Afghanistan – of leaking secrets to "various" military officers and officials. However, the article lacks details and has since been criticized as biased.
READ MORE: White House attacks Trump over connections to Russia and RT
Meanwhile, President Barack Obama's press spokesman, Josh Earnest, claimed in December of last year that Flynn had been "a paid contributor to RT," which he called "the Russian propaganda outlet."
RT's Press Office promptly issued an official response, saying that it was "amazed at the misinformation" disseminated by White House press secretary."
Flynn is not the only Trump supporter to recently come under scrutiny for having alleged connections to Russia – Paul Manafort, a former national chairman of Trump's presidential campaign, as well as Trump advisers Roger Stone and Carter Page, have also been named by the US media as people with "known ties to Russian interests."
Manafort has called the allegations a "Democrat Party dirty trick and completely false."
"I have never had any relationship with the Russian government or any Russian officials. I was never in contact with anyone, or directed anyone to be in contact with anyone," he said in emails to US media outlets, including the WSJ and New York Times.
Stone, in turn, said he has never visited Russia and that the allegations claiming he has ties with Moscow were "nonsense" and "totally false."
"The whole thing is a canard," he said, adding "I have no Russian influences."
You can share this story on social media: