Double jet power: Dubai launches flyboard-equipped firefighting team (VIDEO)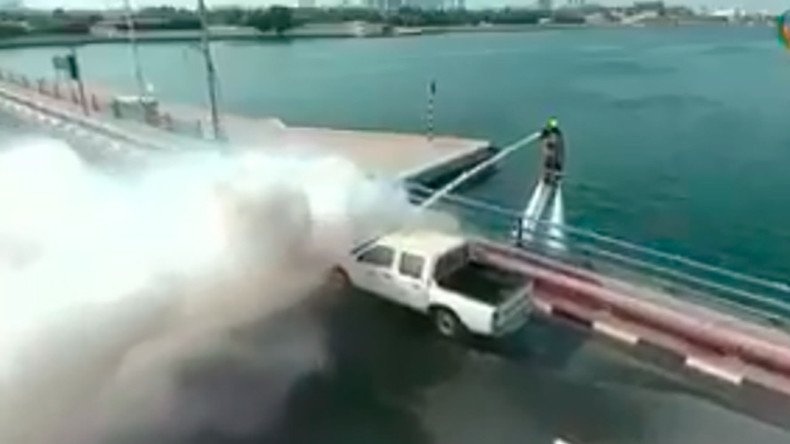 Dubai firefighters have launched a fast response team equipped with flyboard, a water jet device that allows hovering in the air. The idea is to put out fires on boats and shorelines in style.
A flyboard is a relatively novel device that uses a hose to pump water from a jet ski and eject it with force from nozzles attached to a pair of boots. With a bit of acrobatic skill, one could hover several meters in the air and perform various stunts.
The Dubai authorities saw potential other than sport or entertainment for the device. They thought that expanding the arrangement with a fire hose would turn it into a killer kit for dousing flames.
The system, called Dolphin, was presented on Saturday by Maj Gen Rashid Thani Al Matrooshi, director general of Dubai Civil Defense, The National newspaper reported. The service published a promo video on its twitter account.
The Dubai authorities believe Dolphin would be invaluable for quickly responding to fires on boats, bridges, and in shoreline buildings. The system will be presented to the general public next week at the Intersec conference, a trade fair for security, safety, and fire protection.
The UAE may have been inspired by last year's incident on Cross Lake, Minnesota, when a man used jets from his flyboard to extinguish a fire on a boat.
You can share this story on social media: