Trump taking office spells end to world order of 20th century – German FM Steinmeier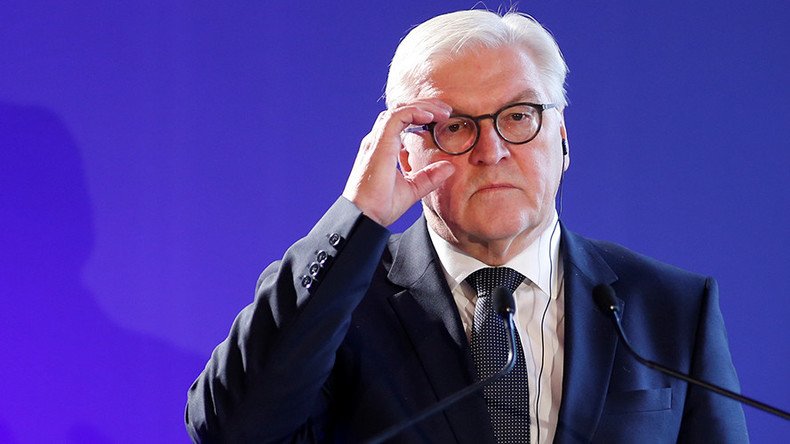 The world order of the 20th century "is over for good" now that Donald Trump has taken office, while times of uncertainty and turbulence lie ahead, German Foreign Minister Frank-Walter Steinmeier said in an op-ed for Bild magazine.
"As always when power changes hands, there are uncertainties, doubts and questions about the course the new leadership will take," Steinmeier wrote in an opinion piece for Bild's Sunday edition.
"But in these times of a new global disorder it is about more, and there is a lot at stake today – with the election of Donald Trump the old world of the 20th century is over for good," Steinmeier stated. The op-ed comes shortly after Trump was sworn in as 45th US president.
Steinmeier wrote that he is committed to Berlin's vision regarding free trade, fighting extremism and terrorism, as well as maintaining trust in transatlantic relations, but added that "turbulent times" lie ahead.
The 60-year-old Social Democrat is highly respected at in Germany where he is regarded as a balanced and open-minded politician. In November last year, German Chancellor Angela Merkel announced that her ruling coalition will back Steinmeier as Germany's president.
The announcement effectively paves the way for Steinmeier to be elected by the Federal Convention – which includes members of the Bundestag and the same number of delegates from parliaments of German states – on February 12 to the largely ceremonial post now held by Joachim Gauck.
The top German diplomat has recently emerged as a vocal critic of US President Donald Trump. When the US election campaign was in full swing, Steinmeier branded the tycoon-turned-politician "a hate preacher," stressing that he and the European far-right "make politics with fear."
Last week, he also mocked Trump's habit of making political statements via Twitter, telling the audience in Berlin: "I would not be in a position to formulate a foreign policy concept in 140 characters."
Steinmeier's remarks on Trump probably reflect similar views in the German leadership. Commenting on messages embedded in the US president's inauguration address, Vice Chancellor Sigmar Gabriel said that the "highly nationalistic tone" was reminiscent of the "the political rhetoric of the conservatives and reactionaries of the 1920s," according to Die Zeit.
Gabriel, also a long-standing member of Social Democratic Party (SPD), added: "We must take the man seriously, and I think... we must be neither submissive nor afraid."
Merkel's comments on Trump's speech were more reserved. Speaking at a news conference on Saturday, she briefly noted that the new president "made his convictions clear in his inauguration speech."
Relations with the US, Germany's biggest trade partner, should be based "on rules, common values and joint action in the international economic system, in the international trade system, and... our contributions to the military alliances," Merkel was quoted as saying by Spiegel.
You can share this story on social media: