Mexico extradites notorious drug lord El Chapo to US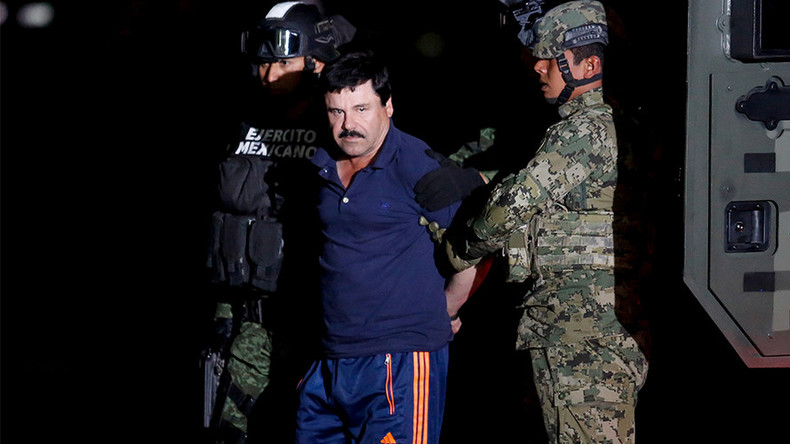 Infamous Mexican drug lord, Joaquin Guzman – better known as El Chapo – has been extradited to the United States where he'll face multiple drug, homicide and money laundering charges.
A plane carrying the drug baron landed at New York's MacArthur Airport late on Thursday.
The Fifth Collegiate Criminal Court in Mexico City denied Guzman, protection under the country's laws according to a statement by the Mexican Foreign Ministry.
Shortly after the announcement, the extradition process begun and Guzman was airborne, on route to New York in a Mexican Bombardier Challenger jet.
In May last year, a Mexican judge approved the US extradition request for Guzman, but the ruling was temporarily suspended after his lawyers appealed, citing a potential death penalty sentence their client may face in the US.
The Mexican Supreme Court dismissed appeals filed by El Chapo's lawyers aimed at halting the extradition earlier on Thursday. "The judges decided not to hear the [appeal for] protection [from extradition]," a source in the court told AFP.
The US Justice Department has confirmed El Chapo's extradition, saying in a statement the notorious crime lord is "en route to the United States to face criminal charges in connection with his leadership of the Mexican organized crime syndicate known as the 'Sinaloa Cartel.'"
"The Justice Department extends its gratitude to the Government of Mexico for their extensive cooperation and assistance in securing the extradition of Guzman Loera to the United States," reads the statement.
"It's a good thing to finally get him to the US side," a US law enforcement officer based in Mexico told Reuters. Mexico however did not put "a whole lot of thought" into the timing of extradition, which came just a day before Donald Trump's inauguration, "but it certainly isn't a bad thing," the officer added.
A Mexican official told the Washington Post the rather unexpected and swift extradition was meant as a "farewell gift" to Obama's administration, and should not be perceived as a present for the upcoming inauguration of the President-elect Trump.
El Chapo, who heads the Sinaloa Cartel, is wanted by US authorities for smuggling vast amounts of drugs into the country. Charges in the US against Guzman include conspiracy to import and possess with intent to distribute cocaine, as well as money laundering, homicide and possession of firearms charges.
You can share this story on social media: