Severely malnourished Yemeni children in urgent need of help filmed by RT Arabic (DISTURBING IMAGES)
Shocking scenes of children suffering from acute malnutrition as well as skin diseases and other illnesses at a hospital in Al Hudaydah province, Yemen, have been documented by RT Arabic. Doctors are calling for urgent help from the international community.
Several thousand children are already dead as a result of the conflict, but it's not just bombs and bullets that are killing Yemen's children. Severe food shortages, coupled with diseases also poses a grave threat to the most vulnerable victims of the poorest country in the Middle East.
The United Nations Office for the Coordination of Humanitarian Affairs states: "about 3.3 million children and pregnant or lactating women are acutely malnourished, including 462,000 children under 5 suffering from severe acute malnutrition." This represents a 63 per cent increase since late 2015, according to OCHA.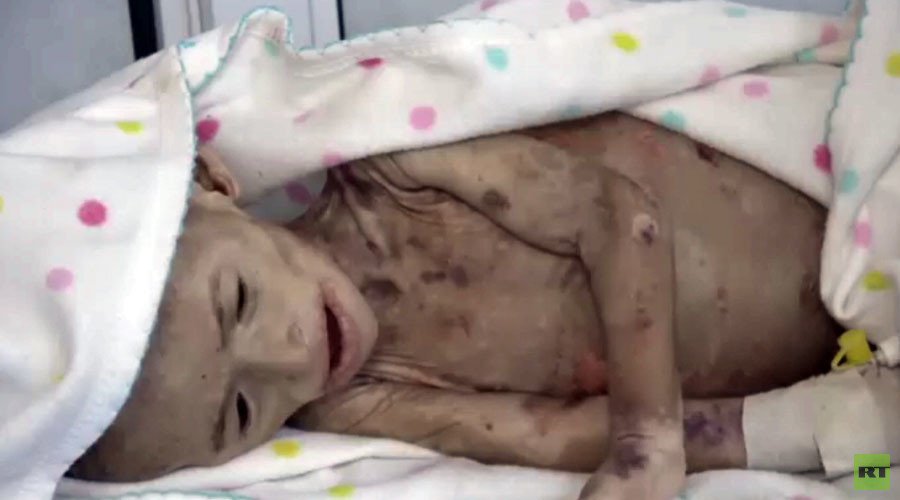 Al Hudaydah coastal province in western Yemen reportedly has the largest number of starving children. Of an estimated 370,000 children suffering of hunger in Yemen, almost 100,000 live in this province alone, according to Middle East Monitor citing a UNICEF report. Before the war began, the number stood at 23,000.
Being home to an international port in the Red Sea, Al Hudaydah has been the target of deadly assaults carried out by the Saudi-led coalition. Since it began its military onslaught in Yemen in March 2015, the area's civilian infrastructure, as well as the port have been largely destroyed.
"The number of people suffering from malnutrition is constantly growing since Yemen has been attacked. Poverty rate has also grown considerably. Many people eat just once a day. They eat the same food, it's horrible," doctor Usain Al-Abbasi from the Al Hudaydah Malnutrition Treating Center told RT Arabic.
The center is the only such clinic in the province. It is now overflowing with children, RT journalists reported. There is a severe shortage of medicine, while other healthcare products are completely absent in the hospital. Its doctors issued an appeal through RT calling on the international community to save the hospital from "catastrophe."
"From here I call on all kind people, organizations and corporations for help. I beg you to do something so that our hospital is able to continue operating," doctor Adil Jubran said.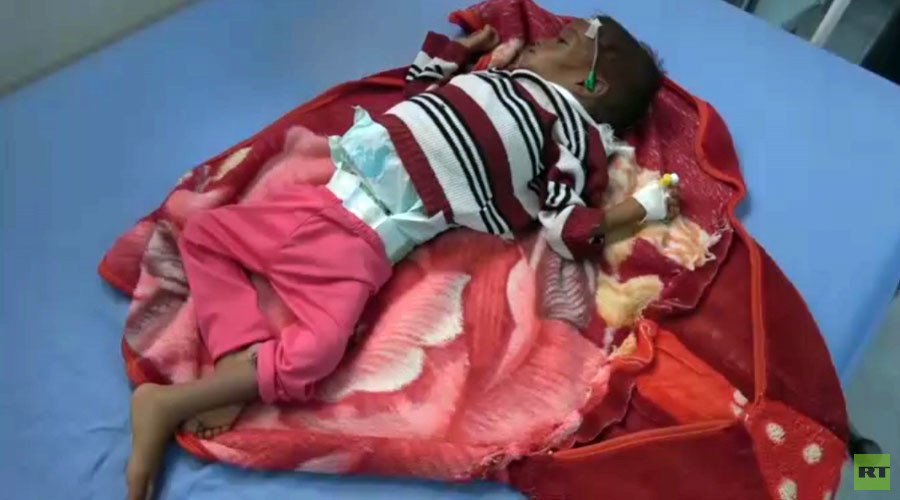 "Only Allah knows our suffering. I can't cure my child. Sometimes we have money, sometimes not. I don't know how we're still alive. We do everything we can, the rest is in Allah's hands," a desperate woman with a child told RT at the hospital.
"The biggest cause of civilian casualties from the beginning of this war has been the Saudi-led coalition's airstrikes that have repeatedly hit markets, homes, hospitals and schools," Human Rights Watch (HRW) Yemen researcher, Kristine Beckerle told RT. She added the US continues to assist Saudi Arabia in its military campaign, being the biggest arms seller to the Saudis. "On HRW's side we have been calling for many many months that the US stop arming the Saudis," she said.
Earlier this month, the organization released its annual report, which said over 4,000 civilians have been killed, most in coalition bombings.
Earlier this week, more than 3,000 women took to the streets in the largest city of Yemen, Sanaa in a massive anti-Saudi rally. Female activists carried banners that urged other Yemeni women to "fight for peace," while also staging displaying machine guns and rocket-propelled grenade launchers.
You can share this story on social media: