EU needs independent defense, says French PM after Trump's NATO comment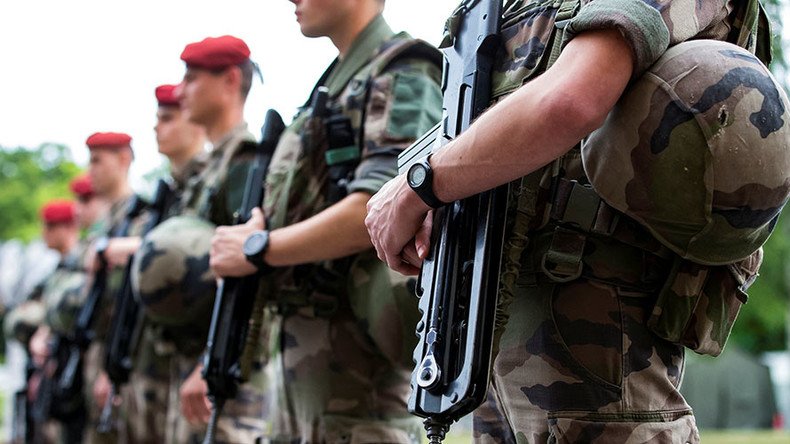 French Prime Minister Bernard Cazeneuve has called for the creation of an independent European defense system, in response to Donald Trump's recent criticism of NATO, which the US president-elect called "obsolete."
In the interview with German newspaper Bild and the Times of London, published Sunday, Trump raised doubts that the US, under his leadership, would come to the rescue of its NATO allies in Europe if Russia were to attack them.
"Number one, it [NATO] was obsolete because it was designed many, many years ago. Number two, the countries aren't paying what they're supposed to pay," Trump told his interviewers. "It's obsolete because it wasn't taking care of terror [sic]."
READ MORE: Europe needs own army, can't rely on US forever – EU Commission President
Just as with his campaign rhetoric, Trump's latest interview made a number of European capitals apprehensive. And while German Chancellor Angela Merkel has stated that "Europeans have our fate in our own hands," Cazeneuve called Tuesday for the establishment of a European defense system to break away from Washington's security dependency, which has reigned in Europe for seven decades.
"We need European defense, with European means, with European investments, with a European projection capacity that will make the EU, the peoples and the nations that make it up, independent," he told lawmakers while answering questions from the National Assembly.
Such independence from Washington will affirm European "principles, its values, and its identity," he said.
Cazeneuve's comments came a day after the French President Francois Hollande said the EU "has no need for outside advice to tell it what it has to do."
"I say it here, Europe will always be willing to pursue transatlantic cooperation, but it will determine its path on the basis of its own interests and values," Hollande said on Monday.
In November, the EU Parliament passed a resolution to create a defense union. The resolution envisions dedicating 2 percent of member nations' GDP to defense, as well as establishing EU multinational forces to allow the bloc to act in any situation in which "NATO is unwilling to [act]."
"Our Union is not equipped to face overwhelming defense challenges. For almost 30 years, most of its member states have been cutting their defense budgets, leading to smaller armed forces. Cooperation among member states is occasional and Europe continues to rely heavily on NATO capabilities and on the US solidarity," Urmas Paet, Estonia's former foreign minister and current member of the European Parliament's foreign affairs committee, said in late November.
MEPs supported the proposed EU investment in defense-related research projects "of at least €90 million during next three years," which could be followed by a "separate European Defense Research Program with an annual budget of €500 million ($530 million)."
The notion of creating a single European army is just pie in the sky, Russia's permanent representative to NATO, Aleksandr Grushko, said late last month.
"The creation of a European army is an impossible dream," Grushko said, as quoted by TASS. "More likely would be the creation of a certain staff group [within the EU] with a military and civilian component, which would allow to settle under one roof planning and control of all operations carried out by the EU."
Among the reasons preventing the creation of a single EU army, Grushko highlighted economic factors, saying the step would trigger a "merger of defense industries and creation of tools that would allow companies to cooperate. But, as we know, production of weapons is an extremely competitive environment."
The idea of an EU army might be far more dangerous than NATO, both to member states and neighboring countries, since NATO "doesn't override sovereignty, it's not supranational like the EU is," believes David Campbell Bannerman, MEP on part of British Conservative party.
"What is concerning … [is] a EU single army… EU coastguard. That is far more of a threat than NATO. NATO is intergovernmental, is democratic," Bannerman told RT.
EU leaders are concerned about Trump's rhetoric, because they simply do not want to pay fair price for NATO membership, Bannerman believes.
READ MORE: EU needs 'strong foreign & domestic policy' whoever US leader is – Austrian FM to RT

"President-elect Trump has said a number of things about NATO. Some are quite worrying, others are far more reassuring. He certainly wants the EU, particularly a lot of the EU nations here to pay their fair share."
Trumps approach to NATO might be not that destructive, as some European leaders want to depict it, and might actually change the alliance for good, Bannerman said.
"A lot of other EU nations, including Germany are going to pay a lot more. He said it's 'obsolete,' he wants it to fight terrorism more rather than as more conventional role in defense of Europe," Bannerman added. "We'll see what happens. I think he's actually quite pro-NATO, and he will stir it up."
The EU, as an intergovernmental structure, is scared of Trump as a democratically elected president, especially in the wake of Brexit where Britain is ready to start new relationships without the pressures of unelected bureaucrats, Bannerman said.
"EU doesn't like Trump instinctively. They don't like democracy, there's not a democratic institution here, I'm afraid, in European Parliament."
You can share this story on social media: