Snowden just got his asylum extended, surely won't be 'gifted' to Trump – Moscow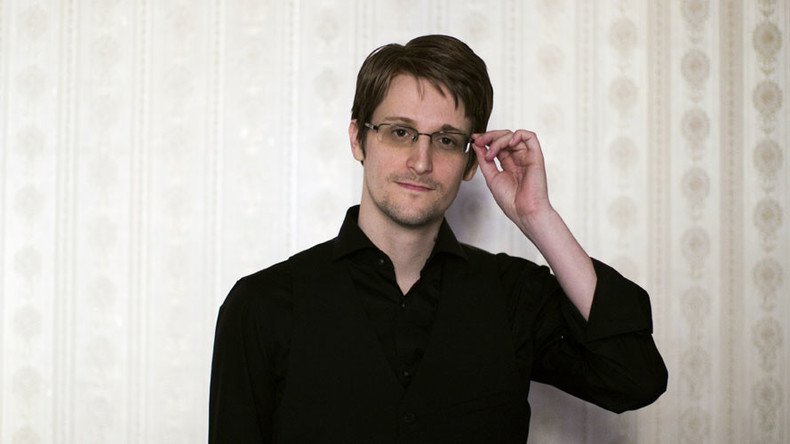 The Russian Foreign Ministry has slammed the "ideology of betrayal" promoted by former CIA director Michael Morell who suggested Edward Snowden be presented as the "perfect inauguration gift" from Vladimir Putin to Donald Trump.
In an op-ed published Sunday in the The Cipher Brief, Morell called on Putin to circumvent the non-extradition principle and deliver Snowden to the US. The former NSA contractor is charged with espionage and theft of government property and faces up to 30 years in prison in the US.
"Noon on January 20th provides an excellent opportunity for Russian President Vladimir Putin to give President-Elect Donald Trump the perfect inauguration gift – Edward Snowden," Morell wrote. "I'm well aware that Russia does not have an extradition treaty with the US, but I am confident that President Putin is creative enough to find a way within his own legal system to deport Snowden."
The former CIA chief argued that it is in Putin's interest to expel the US's most wanted, as it would help Trump to "overlook Moscow's anti-democratic activities at home and destabilizing activities abroad."
He also reasons that such extradition would be a "poke… in the eye of [Putin's] adversary Barack Obama."
Russian Foreign Ministry spokesperson, Maria Zakharova, responded sharply, saying that Russia does not betray its principles and does not hand out "gifts".
"But seriously, the essence of what the [former] CIA [chief] is proposing, is the ideology of betrayal," Zakharova wrote. "It is clear that, for the CIA-man's firm, it is normal to present people as gifts and give up those who seek protection."
"You failed to understand Russia, Michael Morell," Zakharova stated implying that Russia among its many principles, does not surrender those who might be unfairly prosecuted in another country.
Snowden, 33, disclosed mass surveillance programs used by the US intelligence services in 2013. He was then granted an asylum in Russia for one year, which was later extended to three years. Snowden's asylum was due to expire in 2017, but Zakharova confirmed that his asylum renewal has been secured.
With that said, Zakharova mocked the fact that the "former deputy head of the CIA… doesn't know that Snowden has had the deadline for a residence permit in Russia extended for a couple more years."
The spokeswoman also noted that this was not the first time that Morell has made "misanthropic, inhumane statements."
She remembered one of Morell's interviews in August 2016, in which he claimed the United States should make Iranian and Russian soldiers "pay a price" for their involvement in the Syrian conflict. He called on the US to arm local groups and instruct them to kill Iranian and Russian personnel in the country.
READ MORE: 'Kill Russians and Iranians, threaten Assad,' says ex-CIA chief backing Clinton
Just before Zakharova issued her statement, Snowden's lawyer Anatoly Kucherena called Morell's suggestion to extradite his client to the US an "utter nonsense."
"These statements coming from the former CIA head are stirring mixed feelings and can be seen only as a kind of utter nonsense, there is hardly any other way to put it," Kucherena told RIA Novosti.
You can share this story on social media: