Amnesty: EU anti-terrorism laws 'draconian & disproportionate,' target Muslims, refugees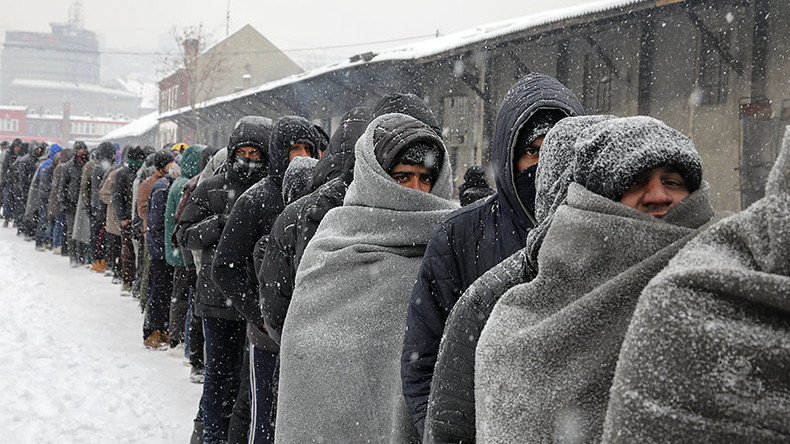 New counterterrorism laws adopted in 14 EU nations discriminate against Muslims and refugees, expose people to unchecked government surveillance, and drive Europe into a "deep and dangerous state of permanent securitization," Amnesty International said.
"In the wake of a series of appalling attacks, from Paris to Berlin, governments have rushed through a raft of disproportionate and discriminatory laws," John Dalhuisen, Amnesty International's director for Europe, said in a statement on Tuesday.
"Taken alone these individual counterterrorism measures are worrying enough, but when seen together, a disturbing picture emerges in which unchecked powers are trampling freedoms that have long been taken for granted," he added.
The human rights watchdog's latest report states that "discriminatory measures have had a disproportionate and profoundly negative impact on Muslims, foreign nationals or people perceived to be Muslim or foreign."
Discriminatory action by EU member states has been widely perceived as "acceptable" in the national security context, Amnesty said. In several countries, proposed or already adopted counterterrorism measures "have eroded the rule of law, enhanced executive powers, peeled away judicial controls, restricted freedom of expression and exposed everyone to unchecked government surveillance," it added.
"EU governments are using counterterrorism measures to consolidate draconian powers, target groups in discriminatory ways and strip away human rights under the guise of defending them. We are in danger of creating societies in which liberty becomes the exception and fear the rule," Dalhuisen noted. He added that governments should provide security for people to enjoy their rights rather than "restrict people's rights in the name of security."
Amnesty says that migrants, refugees, human rights activists and minority groups have been especially targeted by new powers mainly due to the "outright misuse of laws" that define terrorism very loosely.
Many EU member states have tried to draw parallels between the current refugee crisis and the threat of terrorism. In November, a Hungarian court sentenced Ahmed H, a Syrian national residing in Cyprus, to 10 years in prison for committing an "act of terror" that consisted of throwing stones and communicating with a crowd through a megaphone during clashes with border police. While the man admitted stone throwing, footage showed he had also been trying to calm the crowd, Amnesty said.
"Our lives have been turned upside down," Ahmed's wife, Nadia, told the human rights watchdog. "We miss Ahmed and we are scared for him," she added.
Men, women and children have been verbally and physically abused; passengers have been removed from planes because they allegedly "looked like a terrorist"; women have been banned from wearing a full body swimsuit on the beach in France; refugee children in Greece have been arrested for playing with plastic guns, Amnesty noted.
The 70-page report is based on over two years' research.
Amnesty researchers gathered information on legislative developments in 14 countries: Austria, Belgium, Bulgaria, Denmark, France, Germany, Hungary, Ireland, Luxembourg, Netherlands, Poland, Slovakia, Spain, and the UK.
One of the most alarming developments across the EU is an attempt by governments to make it easier to impose and prolong a "state of emergency," citing it as a response to terrorism or the threat of violent attacks, Amnesty said.
"In a number of states, emergency measures that are supposed to be temporary have become embedded in ordinary criminal law. Powers intended to be exceptional are appearing more and more as permanent features of national law."
In France, a state of emergency has been renewed five times, with a range of intrusive measures, including the power to ban demonstrations and conduct searches without warrants, Amnesty noted. Initially, the state of emergency was introduced by President Francois Hollande immediately following the Paris attacks on November 13, 2015.
Mass surveillance powers have been launched or expanded in the UK, France, Germany, Poland, Hungary, Austria, Belgium, and the Netherlands, "allowing the mass interception of and possible access to the data of millions of people," the report stated.
Unsupervised targeted surveillance has also been "massively expanded," Amnesty warned, citing Poland's 2016 Counter-terrorism Law as an example.
The Polish parliament approved a bill last June to amend the country's counter-terrorism laws, giving authorities more flexibility in monitoring the movements of foreign citizens without court approval, and allowing the holding of suspects without charges for up to two weeks. Under the bill, Poland's state security service is allowed to conduct surveillance of foreign citizens for up to three months without prior court approval.
You can share this story on social media: