'Satanist' teen suspected of slaughtering his family with ax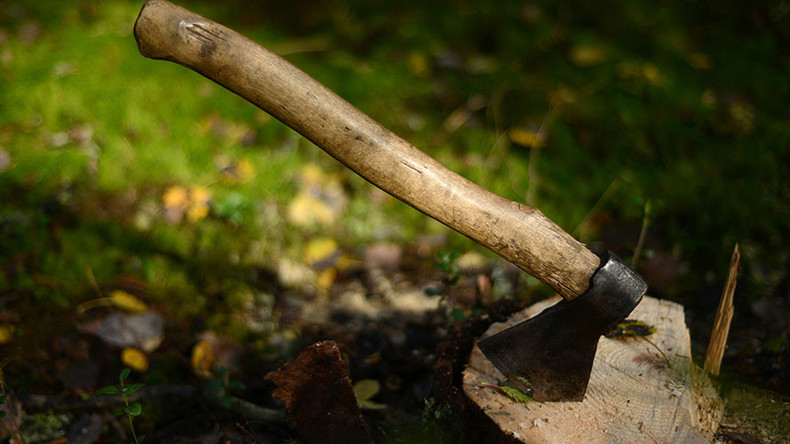 A 17-year-old young man has been arrested in Russia's central Tambov region for allegedly killing his sister, father, and grandmother with an ax. The suspect is reportedly a Satanist, who "wanted to change his life."
On Saturday, police found the bodies of an elderly woman, a man, and a 14-year-old girl in the village of Sosnovka in the Tambov region of central Russia. All of them had been severely hacked with an ax. Though the girl and the woman were already dead, the man was still alive when police found him, but he later succumbed to his injuries in a hospital, Russia's Investigative Committee said in a statement.
Police detained one of the victims' family members, a teenager identified as Aleksandr Kireev, on suspicion of committing the murders. According to police, he may have carried out the heinous crime out of personal enmity or as the result of a domestic dispute.
Many aspects of this case remain unclear, however, as there are conflicting versions as to how the murder took place. Some Russian media say that the teenager killed his relatives while they were asleep, while others suggest he assaulted them during a heated argument.
Moskovsky Komsomolets daily writes that he first attacked his father and grandmother and then threw an ax into his sister's head when she tried to flee.
The gruesome murders surprised the local authorities, who said the teenager lived in an "orderly family." However, locals told Russian media that the young man was feeling bitter over the death of his mother, who died from cancer three years ago.
"He said that God has betrayed him and that he is disappointed with him," a friend of Kireev told Russian REN TV channel.
Some of Aleksandr's peers have described him as an "unsociable and grim" man who suffers from depression and has become even more reserved since his mother's death, Russian Vesti News reports. He also allegedly called himself a "Satanist" and told his peers that he wanted to "change his life" not long before the murder.
"He said that he is a Satanist, death to God and so on," Kireev's classmate told Russian 360 TV news channel, adding that he "was just normal with us [classmates]."
Some reports suggest that he was, indeed, member of a sect, though that has not been confirmed. Some Russian media say the fact that Kireev's father had found a new partner could have also spurred the butchery.
Meanwhile, other outlets have reported that financial problems may have led the teenager to commit the crime, as he was having constant arguments with his family over money he spent in an online-casino.
Police have yet to confirmed any of those accounts and are still looking into the case.
You can share this story on social media: