India boat tragedy: Dozens dead after vessel capsizes in Ganges river (VIDEO)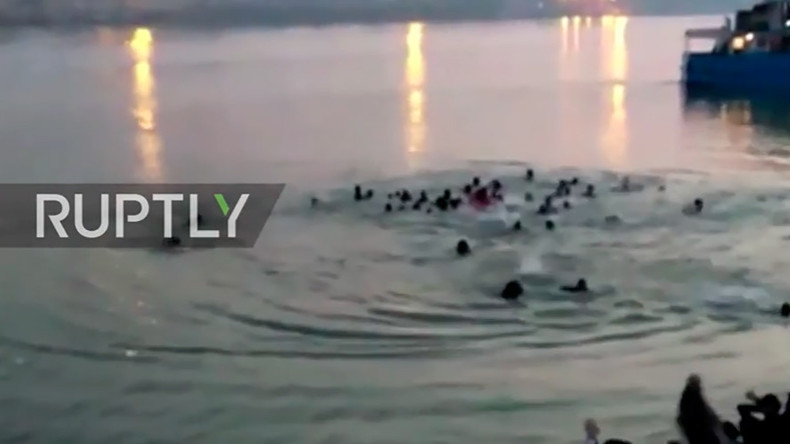 At least two dozen people are confirmed dead after an overloaded boat capsized in the river Ganges in India.
The vessel was travelling from a kite festival in the eastern state of Bihar when it capsized near the city of Patna on Saturday.
The death toll from the accident rose to 26 Sunday morning after rescue teams worked through the night to find survivors, according to AFP. Reuters has put the death toll at 24 citing local officials.
Four bodies were pulled from the water Sunday morning by the National Disaster Response Force, according to the Hindustan Times.
The non-motorized wooden boat was reported to be carrying approximately 40 people. Footage from the incident shows people trying to pass between two small vessels before falling into the water. Screaming can be heard as rescuers attempt to bring people to safety.
Search operations are now over but agencies remain on alert, according to Manu Maharaj, a senior police official from the state who said there are no more missing persons reported at this time.
Ten survivors were discharged from hospital Sunday. An 18 month toddler is among those recovering in hospital after the incident, according to Anirudh Kumar, joint secretary of the state disaster management authority.
Bihar state's Chief Minister, Nitish Kumar, has ordered an inquiry into the accident and announced compensation of 400,000 rupees ($5,900) for the families of the victims.
He has come under fire however from the former Deputy Chief Minister of Bihar and senior leader of the Bharatiya Janata Party, Sushil Kumar Modi who said that Kumar had not made adequate infrastructure provisions for the annual Makar Sakranti festival.
Tourism Minister Anita Devi rejected accusations that suitable arrangements were not in place.
"We had made all arrangements and informed local authorities in writing. But there were some private boat operators," she said, according to the Indian Express.
Prime Minister Narendra Modi has cancelled scheduled plans to visit Patna Sunday where the remainder of the four day festival has been called off.
You can share this story on social media: