Palestinians may reverse recognition of Israel if Trump moves US embassy to Jerusalem – Abbas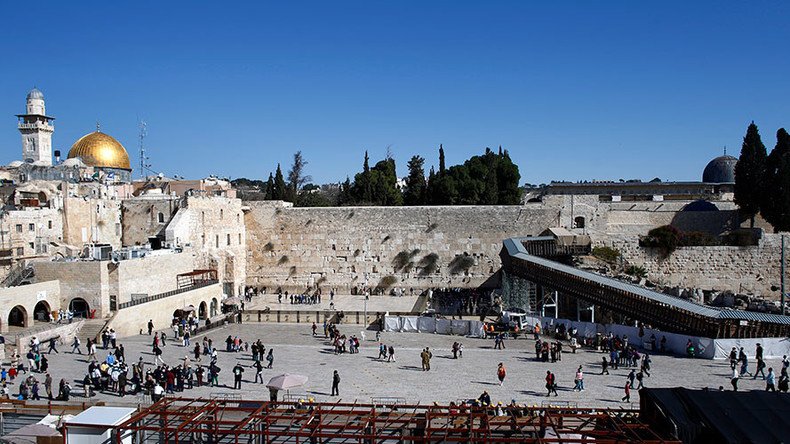 Palestinians may reverse their recognition of Israel if Donald Trump moves America's Embassy from Tel Aviv to Jerusalem, Palestinian President Mahmud Abbas said, adding that the move "would destroy the two-state solution."
"I wrote to president [-elect Donald] Trump to ask him not to do it. Not only would this move deprive the United States of all legitimacy in playing a role in conflict resolution, it would also destroy the two-state solution," Abbas said in an interview to Le Figaro newspaper, as cited by AFP.
According to the Palestinian leader, if the transfer takes place, "there would be several options for us, and we would discuss them with Arab countries."
"Reversing our recognition of the State of Israel is one of them. But we hope that it doesn't reach that point, and that, on the contrary, we will be able to work with the next American administration," he added.
Abbas added that the upcoming conference on Israeli-Palestinian relations in Paris "may be the last chance for implementing" the two-state solution.
READ MORE: Trump's US Embassy move to Jerusalem will be 'gift to extremists,' Jordan warns
The dispute over Jerusalem dates back to 1947, when a UN partition plan called for the creation of two independent states for Jews and Palestinians. The city of Jerusalem, which is holy for Christians, Muslims, and Jews, was to be given special international status.
However, the plan was never implemented, as war broke out in the region. Israel seized East Jerusalem during the 1967 Six-Day War with Arab states and declared the entire city its undivided capital in 1980.
The US embassy, as well as other foreign missions, is located in Tel Aviv, Israel's economic and diplomatic capital. Israel passed a law proclaiming Jerusalem to be its capital back in 1980, although the majority of UN members have not recognized it as such.
Although previous White House administrations have never recognized Jerusalem as Israel's capital, President-elect Donald Trump has adopted a very different tone.
In December, Trump's senior adviser Kellyanne Conway stated that moving the embassy was "a very big priority" for the president-elect.
During the election campaign in September, Trump said Jerusalem has been "the eternal capital of the Jewish people for over 3,000 years" and promised to accept it "as the undivided capital of the state of Israel" if elected.
Trump's apparent eagerness to fulfill his campaign promise has received the backing of Jerusalem officials, who insist that the move will be as easy as changing a sign on a building.
Jerusalem Mayor Nir Barkat said in December that he was confident Trump will deliver on his promise, adding that he has already spoken to the president-elect's team about the issue.
READ MORE: Trump vows to recognize Jerusalem as Israel's capital after meeting Netanyahu
You can share this story on social media: