Govt workers enter Damascus water-source area to restore supply after deal with rebels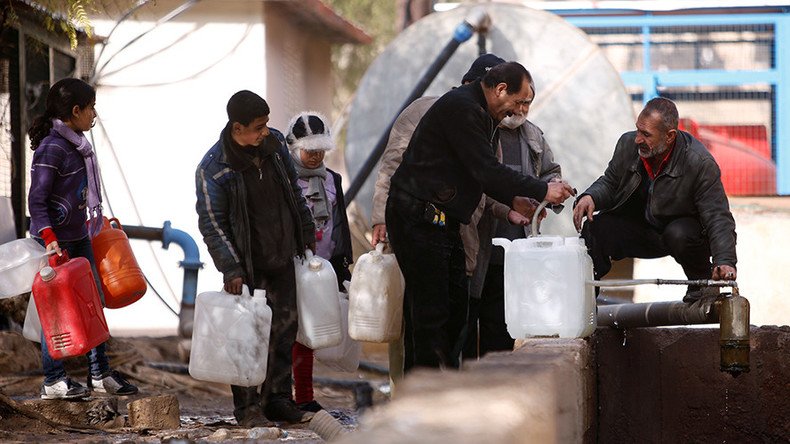 The Syrian capital's crippling water shortage will soon come to an end after rebels allowed engineers to enter a damaged pumping station, according to a regional governor. More than 5 million people have faced dire conditions amid the shortage.
The governor of Damascus Countryside Province, Alaa Ibrahim, told reporters on Friday that the engineers have entered the facilities at Ain al-Fijah in the Wadi Barada area after a deal has been reached for the army to take control of the area.
"We have halted military operations in Ain al-Fijah and started reconciliation with the militias there," Ibrahim told reporters from an area near the site, as quoted by AFP.
"God willing, the pipe will be fixed within three days... rapid measures will be taken to get water to Damascus tomorrow," he added.
The governor said that the rebels who refused the deal will be allowed to leave for the rebel-held Idlib province.
"All of Wadi Barada will be secured within hours," he added. "Water will not be cut off to the city of Damascus again."
A restoration of the supply would put an end to the devastating shortage which has left more than 5 million people without water for almost two weeks.
The Damascus Water Authority cut the supply in late December, after it said the Barada River – the source of the water – had been contaminated with diesel fuel by militants.
The result has been devastating for residents of Damascus, with shop shelves completely stripped of any trace of water.
Such dire conditions raise concerns about the risks of water-borne diseases, especially among children, the United Nations Children's Fund (UNICEF) told RT, noting that it is delivering water in trucks to schools. Other humanitarian agencies are also on the ground.
But as civilians struggle to obtain clean water, rebels have laid blame on the Syrian government, claiming its bombing campaign has damaged vital infrastructure.
The governor said the Friday agreement is part of a wider deal for rebels to stop fighting in Wadi Barada. The deal would also include the departure of some of them for other insurgent-held areas in the country, and a settlement with others who would remain there, Reuters reported.
READ MORE: 'Weapon of war': Rebels clash with govt at Damascus water source as people face severe shortages
Wadi Barada has become the most intense battlefront in the Syrian civil war, with fighting continuing despite the start of a truce brokered by Russia, a Syrian ally, and rebel-backer Turkey in late December.
You can share this story on social media: