Over 1,000 soldiers to make up NATO's new international battalion in Latvia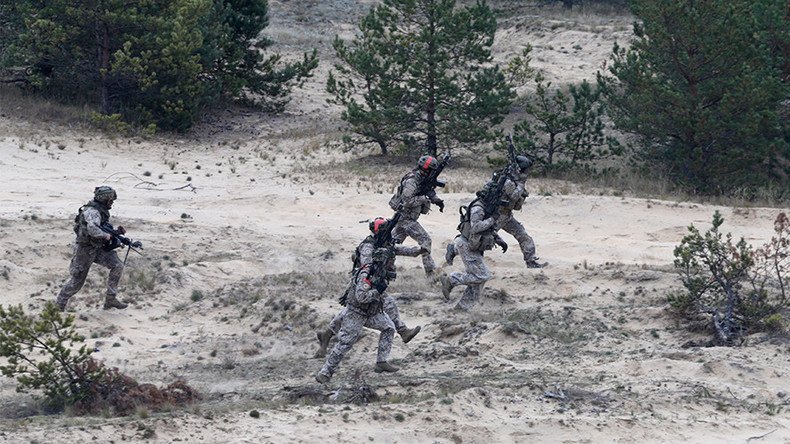 Spanish troops will join hundreds of other soldiers to form a NATO battalion close to Russia' border in Latvia, the country's defense minister has announced, adding that the Baltic state is preparing a "very large" base to host the troops.
Spain has decided to send a considerable unit to join the battle group of the Canadian-led NATO battalion in Latvia, minister Raimonds Bergmanis told Latvian Radio this week, according to Latvian information agency LETA. With the newly added 300 Spanish servicemen, there will be up to 1,200 soldiers in the battalion, the official specified.
Preparations to host the Canadian-led battalion are in full swing, the minister said.
An active development of infrastructure for the future base continues in Adazi area close to the Latvian capital of Riga, Bergmanis said, adding that the military are currently working on construction of the barracks. "At the moment, there are no concerns that something might not work out. This year the Adazi base will become very large," he said.
The international battalion is part of an agreement plan reached at a NATO summit last summer, where the military alliance's presence in the Baltic states and Poland on a rotating basis has been agreed upon, LETA reported.
The combat group in Latvia, which will mostly be made up of Canadian soldiers, has been set up to be deployed at Russia's doorstep in early 2017. The troops are now expected to begin to arrive to the Baltic state in spring.
The battle group has been tasked to deter alleged Russian aggression in Eastern Europe, Canadian Prime Minister Justin Trudeau has said, while confirming the news back in July. According to LETA, Canada's "deterrence mission in Europe, including in Latvia," will cost it some $260 million.
Earlier this month, hundreds of American tanks, trucks and other military equipment have arrived at the German port of Bremerhaven to be transferred to various NATO bases across Eastern Europe. Some 2,800 pieces of military hardware and 4,000 troops have arrived at the port.
Moscow has repeatedly stated it considers the alliance's actions to be aggressive, with NATO's massive military buildup close to Russian borders undermining the security balance on the European continent.
You can share this story on social media: