US tanks and soldiers in Poland pose threat to Russia – Kremlin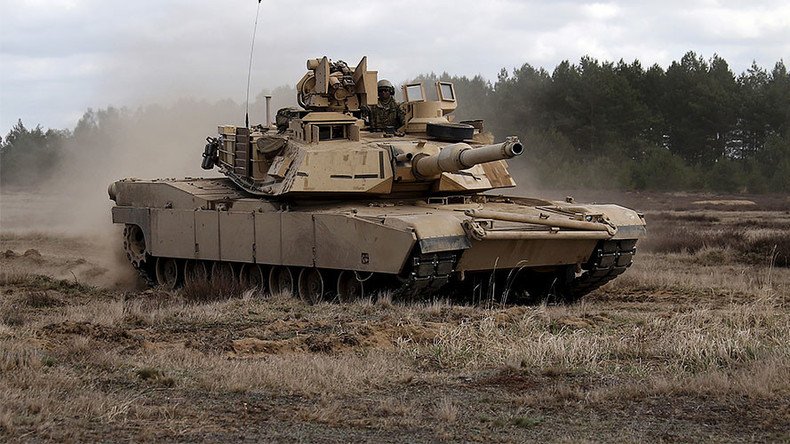 Russia sees the deployment of US tanks and other military vehicles, along with army personnel, as a threat to its national security and interests, Kremlin press secretary Dmitry Peskov said.
READ MORE: Russia, terrorists & China threaten world order, US 'ready to engage' - Mattis
"We see this as a threat. These actions pose a threat to our interests and security," Peskov told journalists on Thursday, stressing "especially, when a third country is beefing up its military presence along our borders with Europe."
"And this is not even a European country," he added.
Eighty-seven battle tanks, 144 Bradley fighting vehicles, and over 3,000 soldiers are on their way from Germany to Poland. An official ceremony to mark the arrival of the US servicemen was scheduled to take place on January 12.
The brigades are to be deployed mainly in the western part of Poland, but drills have been planned that are to be conducted across the whole country.
After the military exercises, the soldiers are to be distributed among Poland, Bulgaria, Romania, and the Baltic countries. A headquarters unit will be stationed in Germany.
The arrival of American military equipment and personnel in Poland is another step in Operation Atlantic Resolve, a large-scale military undertaking that the US launched in April of 2014, right after Crimea voted to join Russia, as a demonstration of "continued US commitment to the collective security of Europe."
NATO describes the buildup along Russia's borders as a defensive measure justified by Moscow's alleged involvement in the Ukrainian crisis.
Peskov stressed that "any country may and will take a buildup of foreign military presence along its borders negatively."
"This is exactly how we take it," Peskov said.
"Be it one thousand or ten thousand [soldiers], it's all the same. That's a buildup of military presence and I have nothing to add," he concluded, after being asked whether the new US deployment presented a real threat or was simply annoying to Russia.
Russia has repeatedly called the bloc's moves aggressive, while stressing that they are undermining security in Europe. In response, Moscow has been conducting large-scale military drills on its home soil and stationed its most modern weaponry and armaments on its western borders, including in the enclave region of Kaliningrad, which is between Poland and Lithuania not far from Western Europe.
You can share this story on social media: