New Chinese recon ship 'matched only by Russia and the US'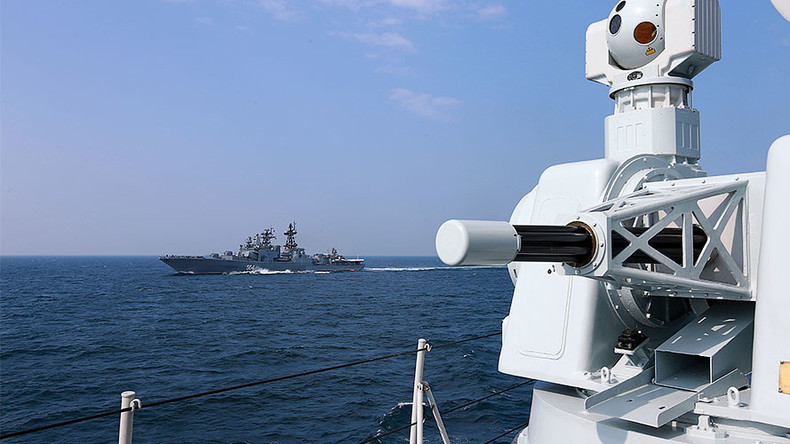 Just after Donald Trump's secretary of state pick, Rex Tillerson, slammed Chinese naval activity, the Chinese military unveiled a new electronic surveillance ship that reveals its maritime scouting capabilities for the first time, state media reported.
The People's Liberation Army deployed the new vessel, the CNS Kaiyangxing (also known as Mizar), with the North Sea Fleet in Qingdao, Shandong province, the English-language China Daily newspaper said on Wednesday. According to the report, the Kaiyangxing is so technologically advanced that only Russia or the United States could present viable competitors.
With a top speed of 20 knots (37 kilometers per hour) and a displacement of 6,000 metric tons, the Kaiyangxing is a Type 815A electronic reconnaissance ship armed with three small-caliber guns and surveillance systems that can monitor multiple targets through severe weather conditions.
According to an anonymous insider from the Chinese shipbuilding industry, more vessels such as the Kaiyangxing are needed because of the rising geopolitical tensions over the South China Sea.
The PLA also revealed that it now has six such vessels: the Beijixing (Polaris), Tianwangxing (Uranus), Tianlangxing (Sirius), Haiwangxing (Neptune), Kaiyangxing (Mizar), and another unnamed ship known only by its hull code, 855. These ships regularly conduct surveillance of Japanese and American vessels in the South and East China Seas.
China is involved in a territorial dispute with five other countries – Malaysia, Vietnam, Taiwan, Brunei, and the Philippines – over the South China Sea, claiming most of the key strategic waterway. To cement its presence in the area, Beijing has been constructing a number of bases and artificial islands, where satellite images appear to show it has installed anti-aircraft and anti-missile weapons. These artificial islands have been condemned by US President-elect Donald Trump's nominee for secretary of state, Rex Tillerson, who said that China should not be allowed access to them.
"We're going to have to send China a clear signal that, first, the island-building stops and, second, your access to those islands also is not going to be allowed," he said at his confirmation hearing on Wednesday. "They're taking territory or control, or declaring control of territories that are not rightfully China's."
Experts have warned that, despite all of the US' military might and the support of allies in the region, actively trying to block Chinese access to the South China Sea would risk a serious confrontation.
The Taiwanese government was recently alarmed when China's only commissioned aircraft carrier, the Liaoning, passed Taiwan's air identification zone near its territorial waters after carrying out training exercises in the South China Sea, leading the Defense Ministry to scramble fighter jets.
China is now building a second aircraft carrier that will carry domestically produced J-15 fighter jets and have a displacement of 50,000 tons.
You can share this story on social media: