Direct targeting: Civilians make up almost half of Mosul casualties, says UN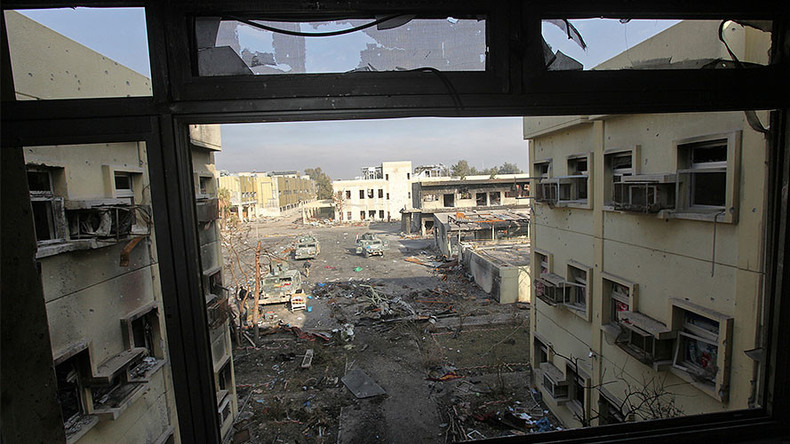 Almost 50 percent of those killed in the offensive to recapture Iraq's second biggest city, Mosul, have been civilians, UN officials said, blaming direct targeting by combatants for the losses.
"You would expect in a conflict like this that the number of civilian casualties would be around 15 percent, a high of 20 percent," Lisa Grande, the UN's Humanitarian Coordinator in Iraq, told journalists on Wednesday.
However, the UN official said that the actual figure is much higher – 47 percent.
"What we're seeing in Mosul is that nearly 50 percent of all casualties are in fact civilians. It's clear that this is because of direct targeting by combatants. They're being targeted by ISIL [Islamic State/IS, formerly ISIS]," she added. The UN official didn't give an exact death toll.
Over the first week of January alone, 683 people were injured in Mosul, and 817 were wounded during the last week of December, the United Nations Office for the Coordination of Humanitarian Affairs (OCHA) said.
Over 140,000 people have had to flee their homes, the UN also estimated.
Grande's statement comes as Washington announced that most of Mosul has been recaptured by US-backed Iraqi forces in an operation that has lasted since mid-October.
Islamic State had been in control of Mosul for more than two years, but now 70-80 percent of the city has been retaken, Army Colonel Brett Sylvia said, as cited on the US Department of Defense's website.
Some 450,000 civilians are living in eastern Mosul, while about 750,000 are still trapped in western Mosul living under the full control of Islamic State.
Grande expressed concern that the people in the western part of the city could face a dire plight, saying, "Siege is a very real possibility. A siege of 750,000 people would have absolutely enormous implications," TASS news agency reported.
The UN official also addressed the issue of the Mosul dam – another looming risk that has the potential to impact some 20 million people. "Anyone who says a catastrophic outburst would be 'Biblical' – they are correct," the official, who also happens to be a hydrologist, noted, as cited on the UN News Centre website.
Mosul is just one part of the humanitarian crisis in Iraq, with "4.5 million people displaced in Iraq" since the rise of IS, Grande said.
"Over the past year, 1 million have been able to return, but 3.5 million still remain out of their homes. Meeting their needs will take years," she added.
Grande's concerns about the hardships facing the population of Mosul was echoed by the president of the International Committee of the Red Cross (ICRC), Peter Maurer, who told RT that the challenge for aid workers is multifaceted.
"We actually see a triple challenge. We see displacements that are continuing because of the fighting in Mosul, and therefore we have to scale-up our humanitarian response. We see those who have been in camps for two or three months and we need to continue to assist and protect them... We also need to back-up those who continue to be residents," he said.
You can share this story on social media: