'Not an intelligence report': WikiLeaks editor Julian Assange slams ODNI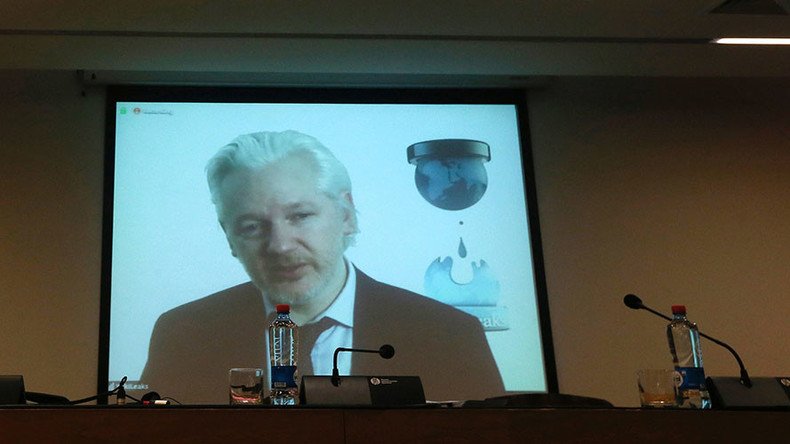 09 January 2017

14:58 GMT

Assange believes whistleblowers will continue to be persecuted under Trump's administration. "No system of authority likes those who undermine their authority," he says.

14:50 GMT

Assange dismisses as "false" the claim WikiLeaks had access to Republican National Committee (RNC) data which it refused to publish.

14:49 GMT

"If WIkiLeaks had an effect it's because people read the words of Hillary Clinton and her team and didn't like what they saw," Assange says, referencing the leaking of emails from John Podesta, Hillary Clinton's campaign chair.

14:45 GMT

The ODNI report "mutually endorses" that WikiLeaks has verified its information, Assange says, maintaining the organization was thrilled by the CIA's interest in them.

14:36 GMT

Asked about WikiLeaks' alleged role in Donald Trump's presidential victory, Assange insists, "They [the US electorate] ended up voting for Trump as a way of delivering into DC something the existing media and establishment were appalled by."

14:31 GMT

Assange said the ODNI report's lack of sources made it so weak that "it does not make assertions to rise to the level of fabrication."

"There is no evidence of any kind supplied," Assange.

14:31 GMT

Assange warns of the potential destruction of information by the Obama administration before he leaves office. "Such information is a part of history" Assange says, adding that its destruction would be a "crime against humanity."

WikiLeaks have offered a reward for the exposure of anyone in the Obama administration involved in destroying information. "Take the data now, keep it under your bed or with your mother. You can give it to WikiLeaks," says Assange.

14:30 GMT

Asked if WikiLeaks is sure the leak wasn't provided by the Russians, Assange said he could not provide additional information as this would contribute to identifying the source.

"If our sources were a state we would have a lot less concern in attempting to protect them," says Assange.

14:28 GMT

"We haven't said whether we know or don't know or sources." Assange says, reiterating that the source is not a state party.

14:18 GMT

Assange criticizes the time frame of the report by the CIA which claims the DNC was hacked by Russians in 2015, when "Trump is clearly not on the horizon."