5-yr Ukraine ban proposed for Le Pen after her 'no illegal annexation' comment on Crimea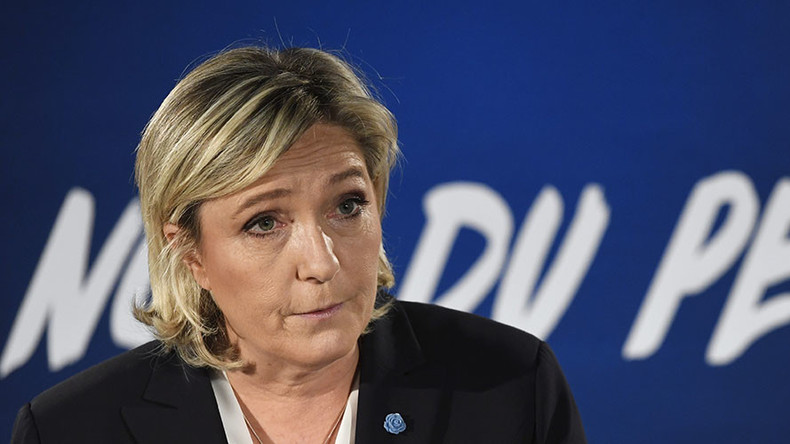 Far-right French presidential candidate Marine Le Pen has provoked indignation in Kiev by saying Crimea joining Russia was not illegal. The Ukrainian Security Service chief of staff has proposed a five-year ban on her entering Ukraine.
In an interview with BFMTV on Tuesday, Le Pen said that she does not believe the joining of Crimea to the Russian Federation to be in violation of international law.
"I do not believe that there was an illegal annexation: there was a referendum, the people of Crimea wanted to join Russia," she said. "I do not see any justification for calling this referendum into question."
Alexander Tkachuk, chief of staff of the Security Service of Ukraine (SBU), told the news agency UNIAN that he has submitted a request to the Ukrainian Foreign Ministry to bar the National Front leader and presidential candidate from entering the country for five years.
"We sent a letter to the Ministry of Foreign Affairs on January 3 to agree on our position with regards to the ban on Ms. Le Pen entering the territory of Ukraine. It is a standard procedure, especially when it comes to politicians of a foreign state. That is, the foreign policy aspects – we certainly consider them. We always respect the position of our colleagues from the Ministry of Foreign Affairs," he said.
"If our position is supported by the Foreign Ministry – a ban on entering the territory of Ukraine for Ms. Le Pen, we will still need to determine for how many years the ban will last. This could be a different period than 5 years – it's quite possible, but it remains to be determined by the officials who have this authority."
"I think perhaps even today we will get a positive response, and our initiative will be supported," added Tkachuk.
In a press release on Wednesday, the Ukrainian Foreign Ministry did not specifically say they were imposing a travel ban on Le Pen, but they did not rule out the possibility either.
"We would like to make a reminder that such statements and actions, which violate Ukrainian law, will definitely have consequences, as has already happened in the case of certain French politicians who are denied entry to Ukraine," the statement read.
"The Ukrainian Foreign Ministry expresses its indignation at the fact that one of the candidates for the election campaign in France, Marine Le Pen, allowed herself to make statements in support of a temporary occupation and Russian annexation of the Autonomous Republic of Crimea and the city of Sevastopol."
Crimea joined Russia in March 2014 when 96 percent of Crimean residents voted in favor of the move in a locally-held referendum after the violent overthrow of the government of Viktor Yanukovich. The US, EU, and other nations responded to Crimea joining Russia by imposing sanctions on Russia.
Both of the leading candidates in the French presidential race – Marine Le Pen, and her center-right opponent, Francois Fillon – have expressed a more positive attitude to Russia than their predecessors, and have called for an end to sanctions. Fillon, however, has stopped short of recognizing the results of the 2014 Crimea referendum.
You can share this story on social media: