New human organ discovered, purpose of 'mesentery' unknown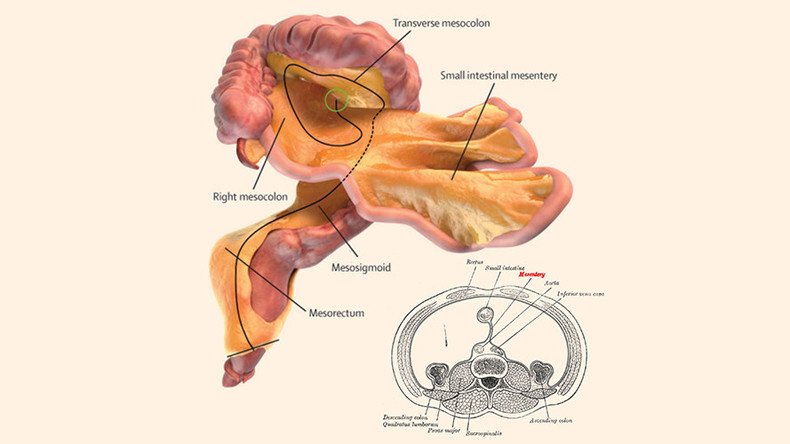 A new human organ has been discovered hiding in the human digestive system. The mesentery's purpose isn't fully understood, but its presence could hold the key to treating digestive diseases.
READ MORE: Hallucinogenic drink fights Alzheimer's and Down syndrome in spectacular scientific breakthrough

It was previously thought that the organ was an unimportant group of structures, but it has now been classified as one single organ, which connects the abdomen to the intestine.
The discovery that the mesentery was a single structure was first made by Irish researcher J Calvin Coffey at University Hospital Limerick in Ireland in 2012.
Since then, he and his team studied the mesentery to prove it should be classified as an organ. "When we approach it like every other organ," Coffey explained, "we can categorise abdominal disease in terms of this organ."
The organ's reclassification findings have been published in 'The Lancet Gastroenterology & Hepatology'.
"In the paper, which has been peer reviewed and assessed, we are now saying we have an organ in the body which hasn't been acknowledged as such to date," Coffey said.
"The anatomic description that had been laid down over 100 years of anatomy was incorrect. This organ is far from fragmented and complex. It's simply one continuous structure."
Medical students were taught about the mesentery's presence starting last year.
"The next step is the function," Coffey explained. "If you understand the function you can identify abnormal function, and then you have disease. Put them all together and you have the field of mesenteric science … the basis for a whole new area of science."
The mesentery is a double fold of peritoneum, the abdominal cavity lining, which keeps everything together. It's reclassification brings the total number of human organs to 79.
"Whether the mesentery should be viewed as part of the intestinal, vascular, endocrine, cardiovascular, or immunological systems is so far unclear, as it has important roles in them all," the study reads.
"Its effects are being investigated at haematological, immunological, endocrine, metabolic, and other levels… The functional unit of the mesentery is unknown, and whether a distinctive cell type is primarily responsible for its functionality should be investigated."
You can share this story on social media: