650 cars torched in French NYE 'tradition' (PHOTOS, VIDEO)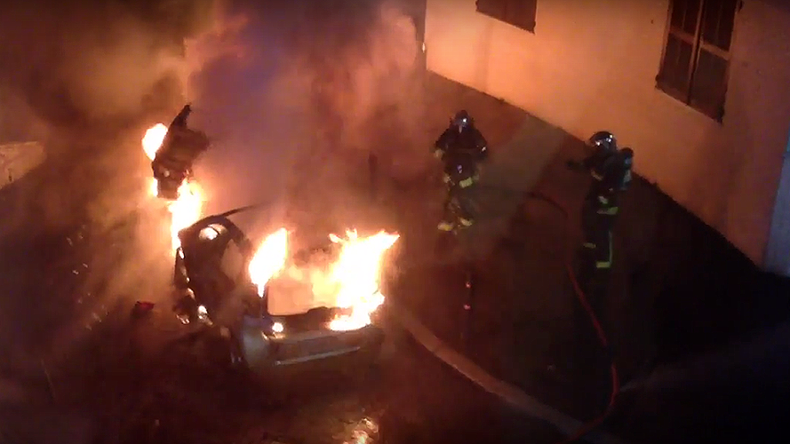 New Year's Eve in France turned out to be quite a busy time for the country's emergency services with almost 650 cars set on fire and nearly 500 people arrested, the Interior Ministry revealed in a statement.
The New Year's night celebrations "went off without any major incident," however, there were "some troubles with public order," the statement said.
Vandals set ablaze 650 parked cars in an event that has already turned into a kind of annual New Year's ritual in France.
"The number of burned cars shows that this phenomenon, as unacceptable as it is, continues to exist. A total of 650 cars were set ablaze while last year there were 602 such cases," the statement continued.
Several police officers were hurt during the night in various parts of the country. In Nice, revelers threw objects at two police officers while a firefighter in the eastern department of Ain was also hurt trying to extinguish the flames of a burning car.
"I regret that once again there were too many instances of security forces being hit with projectiles, or met with aggression or insults," Interior Minister Bruno le Roux said, adding that the attacks on security forces would be investigated.
Though the number of burnt cars increased this year compared to the 602 torched last year, the ministry insisted there was an overall decline in car burnings.
"In the past five years, the number of torched vehicles dropped by 20%", the ministry said.
Le Roux, who revealed the figures, has come under criticism for speaking only about "direct arsons." Apart from the 650 cars that were set on fire intentionally, there were 295 other vehicles that caught fire and were also destroyed, according to data from the Interior Ministry, cited by Europe 1.
Police detained 454 people overnight, with 301 charged with various offenses.
In 2016, French police detained 622 people during the festivities. Nearly 300 of them were later charged. Some 800 cars were set on fire compared to the 940 in 2015.
READ MORE: How not to New Year: 380 injured by fireworks in Philippines, 800 cars torched in France
The practice to set cars alight on New Year's Eve as a symbol of protest reportedly originated in the 90's in the poorest areas of the country's east, around Strasbourg. The burning of cars is used as a tactic to express social discontent.
The highest number of such incidents in France were registered between 2005 and 2009. In 2010 and 2011 the Interior Ministry declined to release any figures, drawing criticism that the numbers could have been too embarrassing for the government.
According to Claude Rochet, a former government adviser and professor at the Institute of Public Management at Aix-Marseille University, not only are the authorities playing down the scale of the car burnings, but are powerless to stop them.
"They do not allow it directly, but they have not the capacity to prevent it, because police forces have received instructions not to provoke young people," Rochet told RT. "So, once they are arrested, if they are arrested, they are immediately released. So, these people fear absolutely nothing, and the police forces are exhausted by the state of emergency, they are exhausted with the problem of terrorists, and they have no time and no forces to dedicate to these so-called minor events such as burning cars."
You can share this story on social media: