Israeli police investigate PM Netanyahu over corruption allegations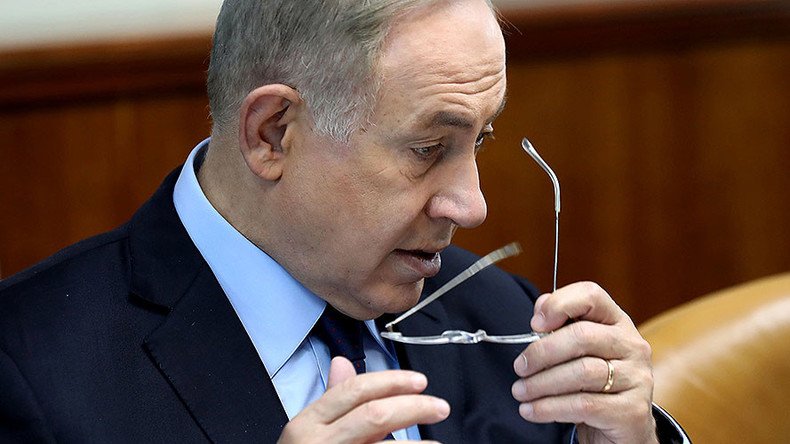 Israeli police have questioned Prime Minister Benjamin Netanyahu over graft allegations, hours after the prime minister dismissed allegations of any wrongdoings.
Netanyahu was questioned at his home by a team of investigators on Monday evening, the Haaretz newspaper reports. The questioning comes amid a probe authorized by Attorney-General Avichai Mandelblit, who after accessing preliminary evidence, decided there was enough scope for a full-scale inquiry.
According to Haaretz, police had been trying for days to find a suitable time to question Netanyahu.
This interrogation comprises two separate cases against the prime minister. The first, and less serious, relates to gifts Netanyahu had received from several business people, alleged to be worth hundreds of thousands of shekels.
A number of these business people are said to be his friends, but as Haaretz reports, evidence suggests the PM was choosy about his gifts and made concrete demands.
The special task force to investigate Netanyahu will be led by Chief Superintendent Shlomo Meshulam of the fraud squad. The team comprises local and international Israeli police.
A Jewish-American businessman, Ron Lauder, admits to having presented Netanyahu with gifts, including an expensive suit and paying for a holiday abroad for Netanyahu's son, Yair. However, police believe Lauder may have deliberately underestimated their value and used them as a way to buy leverage.
Netanyahu has vigorously denied the allegations.
"I see the spirit of celebration in the television studios," said the PM at a Likud faction meeting on Monday, as quoted by the Jerusalem Post. "Wait with the celebrations; don't hurry."
"There will be nothing, because there is nothing," he added, repeating a catchphrase he has used throughout the scandal.
Some of Netanyahu's allies have been vocal in their support of him, with one Likud MP describing the the probe as a conspiracy.
"The police's conduct is different when it comes to investigations of the prime minister," wrote David Amsalem, an MP for Netanyahu's Likud party, on Facebook. "There's an entire enormous army here that's trying to replace the prime minister. In my opinion, there's also funding from abroad. They're doing everything possible in order to oust Netanyahu and bring the left-wing agenda to power."
A second, more serious case is also being built against Netanyahu, but precise details remain vague. The Israeli prime minister is no stranger to controversy, having been caught up in several scandals throughout his leadership. And if enough evidence is found to press criminal charges, he would also not be the first Israeli leader to have a run-in with the law either. His predecessor, Ehud Olmert, was found guilty of bribery and is currently serving an 18-month jail sentence, while in December 2016 former president Moshe Katsav was released from prison after serving five out of a seven years for a rape conviction.
You can share this story on social media: