Not so cuddly: Giant panda mom severely mauls nature reserve worker in China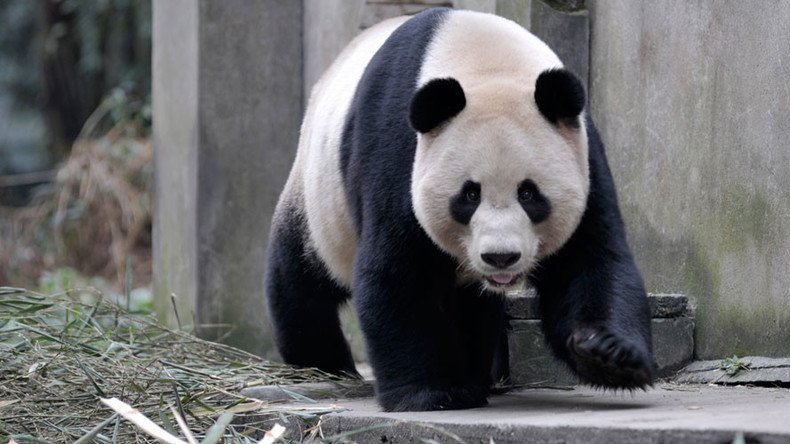 A Chinese conservation worker was severely injured by a giant panda after entering her training area to check up on her cub. Despite being left with broken wrists, the victim says he doesn't hold grudge against the panda, as she is one of his favorites.
The encounter took place in Conservation and Research Center for the Giant Panda in southwest China's Sichuan Province on December 17, but the information was only released in the Chinese media on Thursday.
Xi Mei, a 16-year-old panda, and her cub, Ba Xi, had arrived at the center earlier in December. They were receiving training to prepare them to be released into the wild, the center said in a statement, as cited by China News Service.
After the signal from Xi Mei's cub was lost for several days, the center's specialists decided to enter the pandas' training area to check up on them.
Three conservation workers wearing panda suits entered the area, found Ba Xi, and were about to leave when the cub's mother decided to attack, biting the arms and legs of one of the specialists, Wei Hua. The 41-year-old wildlife conservationist luckily managed to escape and was immediately taken to hospital.
"After about five minutes, my colleagues were able to get her attention and pulled a piece of clothing that was blocking her eyes. Then she relaxed her grip," said Wei.
The conservationist apparently received quite a thrashing, and his injuries were quite severe. The worried mother reportedly broke his wrists, bit chunks out of his left hand, and tore some of his tendons.
However, Wei, who has been working with pandas since 2013 and has a degree in animal conservation, said that Xi Mei is one of his favorites.
"I can't hate [the panda]," Wei said, as cited by Chinese media. "I have forgiven it in my heart. I study and work on this kind of thing. I understand the behavior of animals better than others."
Wei added that he still doesn't know "if she wanted more to eat, or if she was playing."
SOON: RT to air documentary It's A Pandaful Life! Watch it to learn how China is saving the giant panda from extinction.
You can share this story on social media: