ISIS-affiliated cell busted in Dagestan, planned to target Moscow area – FSB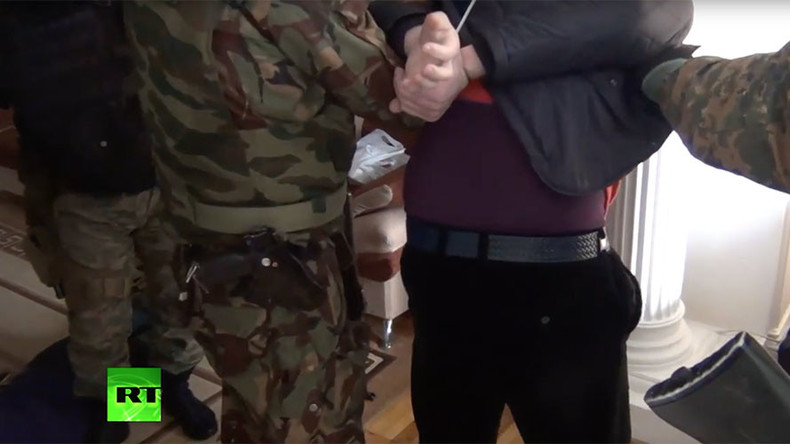 A terrorist cell has been uncovered in Dagestan, southern Russia, with the Russian Federal Security Service (FSB) saying the suspects had been planning a series of attacks in the Moscow area on the orders of an Islamic State commander.
"The FSB with the Russian Interior Ministry have thwarted the activities of an undercover group of Islamic State supporters in [the southern Republic of] Dagestan. [The group] was planning terrorist attacks in the Moscow area," the FSB said in a statement.
Seven arrests have been made. According to the FSB, the militants were planning attacks based on the "direct instructions" from an Islamic State (IS, formerly ISIS/ISIL) commander located in Syria.
During searches of the suspects' homes, the security services seized "a large amount of" firearms, hand grenades and ammunition, as well as components for homemade explosives.
The cell was preparing attacks during the New Year holidays, a source from law enforcement agencies in Dagestan told RIA Novosti, adding that more arrests may follow.
Russian security forces recently reported they had thwarted a number of terrorist plots on Russian soil, organized by militants with ties to Islamic State.
Russian President Vladimir Putin said the threat posed to Russian citizens by the terrorist organization is one of the key reasons why he decided to deploy the military to help the Syrian government in its fight against terrorism.
READ MORE: Head of ISIS 'branch' in Russia's N. Caucasus killed in special police op – FSB
The latest detentions in Dagestan come just a week after seven members of the Tablighi Jamaat cell, including its leaders, were detained in another FSB operation. The cell, run by foreign emissaries, was recruiting new followers and planning to establish a "caliphate" in Russia.
Earlier in December, security services also foiled a series of terrorist attacks in Moscow plotted by a group of foreign fighters. An IS affiliate based in Turkey was reportedly directing them.
In 2016, the FSB and other law enforcement agencies prevented some 42 terrorist attacks on Russian soil, according to a December report released by the Russian National Antiterrorism Committee.