Rare snowfall in Athens sends vibes of excitment through social media (PHOTOS, VIDEO)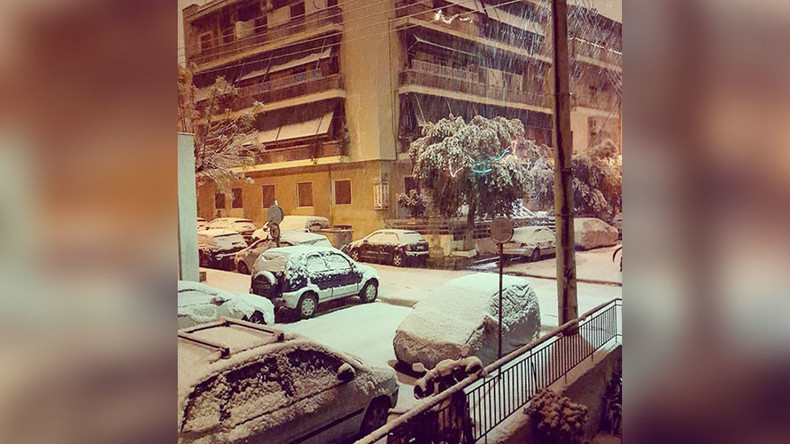 Greeks are in awe following a rare snowfall in their country that blanketed the streets, trees, and houses of the capital. Pictures of Athens completely covered in white are filling social media.
"Look !!! We hadn't seen snow in Athens in years !!!" a Twitter post from the capital reads, while another adds: "A patch of snow on my tiny herb garden: Hello snowy Athens!"
"If you are in Athens dress well and go play with the snow!" wrote one more excited user.
Some people took to their yards to make snowmen.
The rare snowfall apparently helps keep the New Year's and Christmas season bright.
Heavy snow has been recorded in the southern European country since Wednesday, Greek media reported, citing the National Meteorological Service (EMY), which says it will continue snowing throughout the entire week with a significant drop in temperatures.
According to EMY, the average temperatures in Greece this week will range from -1 to 6 C.
The City of Athens has organized temporary shelters for the homeless, and the city's authorities have called upon residents to donate warm clothes and help the vulnerable.
The Attica Regional Authority has prepared dozens of snow ploughs, cranes, and other machinery to take on the snowy weather, Ekathimerini newspaper reported.
Meteorologists also warned that the central and northern parts of Greece could also see severe frosts.
Snow has been reported in the Attica region (Athens) and over the Aegean islands. Snow is extremely rare in these areas, as they have a Mediterranean climate, which usually brings either sunny or rainy weather.