5.9 magnitude earthquake strikes Japan - USGS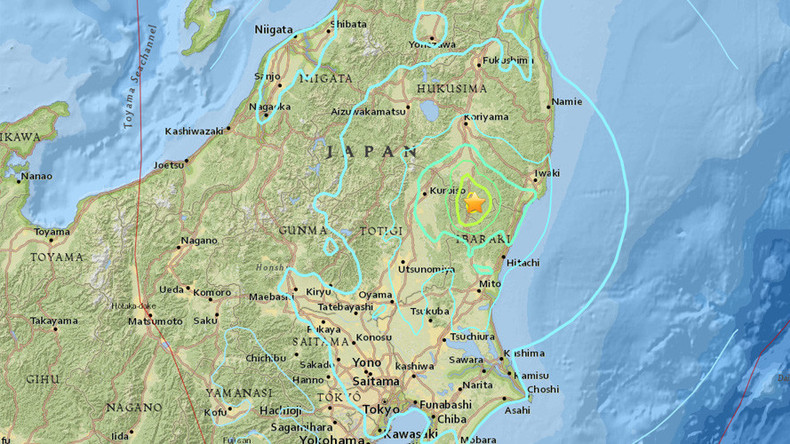 An earthquake has struck the eastern coast of Japan, with early reports suggesting a magnitude 5.9 quake, according to the United States Geological Survey (USGS).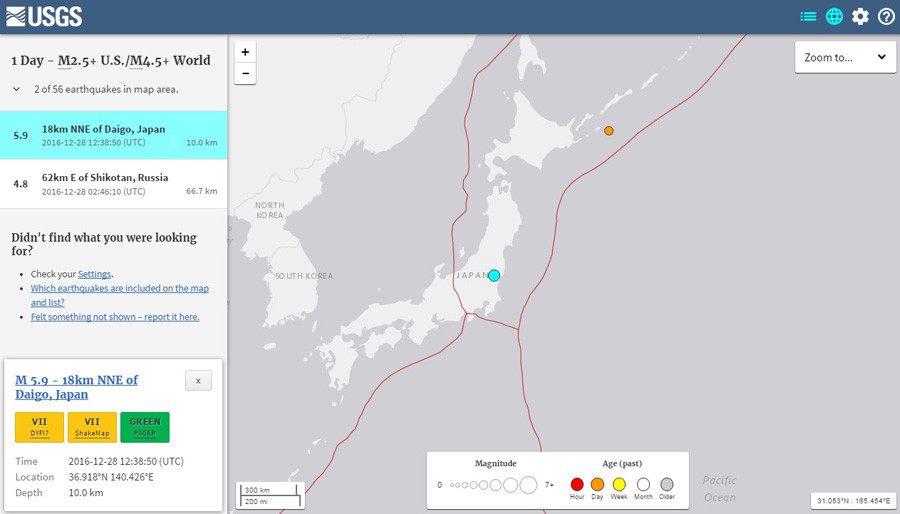 The Japanese Meteorological Agency (JMA) earlier put the magnitude at 6.3 and reports the quake had a depth of 10km.
Reuters reports that no tsunami warning has been issued as a result of the quake.
The epicenter was reported as Ibaraki Prefecture in central Japan, about 170 kilometers north of the capital Tokyo, and near the town of Daigo. The prefecture has a population of about three million people.
A statement released by the office of Prime Minister Shinzo Abe reassured citizens that countermeasures are in place to deal with the fallout of the earthquake, and he encouraged people to report damage to the authorities.
【地震情報】総理は、地震発生を受け、1. 早急に被害状況を把握すること 2. 地方自治体とも緊密に連携し、政府一体となって、災害応急対策に全力で取り組むこと 3. 国民に対し、避難や被害等に関する情報提供を適時的確に行うこと の3点について指示(21時43分に指示)。

— 首相官邸(災害・危機管理情報) (@Kantei_Saigai) 28 December 2016
Japan's disaster management agency say it is working to assess any damage to buildings and personal property.
Japan's NHK news agency report that tremors were felt throughout "wide areas" of the east coast, although it is unclear how much damage has been caused.
NHK reports that the JMA will hold a press conference at 11:45pm local time to provider further information on disaster prevention and earthquake activity.
In 2011, the 9.0 magnitude Tohoku earthquake caused large scale destruction of Japan's Fukushima Daiichi nuclear power plant, which remains one of the biggest environmental disaster zones on the planet.
The Tokyo Electric Power Company, which is currently decommissioning Fukushima's destroyed reactors, has released a statement saying they are investigating the latest earthquake's impact on its facilities.
"At the moment, we have not confirmed the impact of the earthquake on our main power facilities (including nuclear power plants)," the statement read.
■お知らせ■12月28日午後9時38分頃、茨城県北部を震源とするマグニチュード6.3の地震が発生しました。
現在のところ、この地震による当社の主要な電力設備(原子力発電所を含む)への影響は確認されておりません。

— 東京電力 (原子力) (@TEPCO_Nuclear) 28 December 2016
Japan's Nuclear Regulatory Authority says there has been no abnormal activity at the Tokai nuclear power plant in the Ibaraki prefecture in the wake of the earthquake, according to local reports.
An official Twitter account for the nearby city of Mito is reporting no damage or loss of life at this early stage.
【地震情報2/2】22時15分現在,市内のライフライン等に被害はありません。また,近隣の原子力施設においては異常はありません。

— 水戸市 (@kouhou_mito) 28 December 2016
Emergency shelters have been set up in the coastal city of Takahagi, according to the local government's Twitter page.
"It should be noted," the statement says, "there is no worry of a tsunami caused by the earthquake."
高萩市役所より連絡です。
只今の自主避難所を開設しています。
落ち着いて行動してください。

◆開設時間 午後10時15分
◆開設場所 総合福祉センター

避難の際は、気をつけて避難ください。
なお、地震による津波の心配はありません。

— 茨城県高萩市(公式) (@Takahagi_jp) 28 December 2016
Takahagi has a population of nearly 30,000. The area suffered considerable damage during the Tohoku earthquake, including partial destruction of a pharmaceutical plant.