2-plane collision averted at Delhi airport, 1 more skids off runway in Goa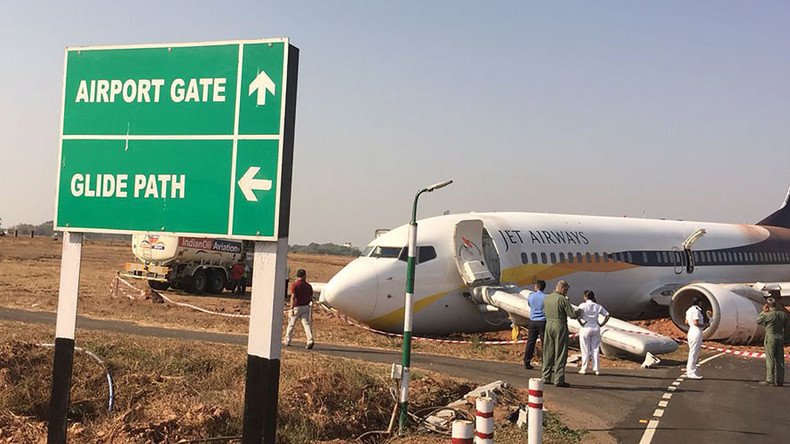 At least 12 people were injured while evacuating a Jet Airways plane which skidded off the runway at Goa's Dabolim Airport. The accident occurred just hours before a separate incident in Delhi, which saw two planes come face-to-face on the runway.
A major incident was averted at Delhi's Indira Gandhi International Airport on Tuesday morning, as two planes from two different airlines - IndiGo and SpiceJet - came face-to-face on the runway.
That incident was due to a miscommunication with air traffic control, according to reports cited by the Times of India. It has been reported to air traffic control and the Directorate General of Civil Aviation (GDCA), according to IndiGo spokesperson Ajay Jesra. A probe has been initiated into the matter.
Meanwhile, earlier in Goa, emergency slides were used to evacuate flight 9W 2374, which was carrying 154 passengers and seven crew members.
Twelve people were injured in the process, according to Jet Airways. Seven were discharged after receiving first aid at the scene, while the remaining five people will be discharged once they are "medically cleared."
However, Navy sources cited by the Indian Express put the number of injured persons at 15.
The incident occurred at around 5am local time on Tuesday, when the plane, bound for Mumbai, was able to take off. However, instead of becoming airborne, the aircraft skidded off the runway and reportedly spun 360 degrees.
The reason for the incident has not yet been determined, and will be investigated by the Aircraft Accident Investigation Bureau (AAIB).
The airport was closed following the incident, but has since re-opened.
You can share this story on social media: