Iran begins major aerial drills, warns off foreign & civilian pilots
Published time: 26 Dec, 2016 19:39
Edited time: 27 Dec, 2016 09:11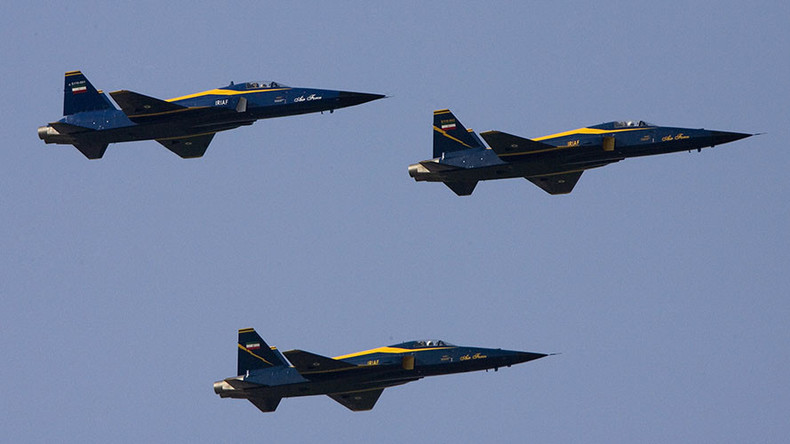 A massive air drill, known as the Defenders of Velayat Skies 7, has begun in the south of Iran, aimed at improving the aerial security of the country.
Foreign and civilian pilots were warned not to enter certain parts of Iranian airspace as the wargames, which began Monday, might put them at risk.
READ MORE: 'Stay out of Iranian waters:' Iran's Revolutionary Guard slams Saudi drills

"The 5-day massive drills codenamed Defenders of Velayat Skies 7 will start tomorrow morning in a 496,000-square km region from Ahwaz and Shiraz to Kerman, Bushehr, Hormozgan, the trio of islands [Abu Musa and the Greater and Lesser Tunb], Kish Island and Khark Island and the air borders of all these regions," Brigadier General Farzad Esmayeeli said Sunday, as quoted by Fars News Agency.
"Of course, we are witnessing the presence of a number of trans-regional planes outside the air and sea borders of the country but we emphasize that these planes should know their limits and know that we will take action in less than one second. They should fully keep away from the drills zone," he added, warning any possible intruders.
The drills, known as "Modafe'an-e Aseman-e Velayat-e 7" in Farsi, involve over 17,000 troops from the both the army and Revolutionary Guards (IRGC) including members of the Army Air Defense, IRGC Aerospace Force, Navy, Police and Basij (mobilization forces), artillery units of the Army and the IRGC, and fighter jets from the Air Force, including American-made McDonnell Douglas F-4 Phantoms.
S300 missile systems will also take part in the event, IRNA reported.
According to officials, the exercises aim to develop and improve coordination between the various branches of the air forces.
"The drill aims at coordinating air defense operational elements (including the army, IRGC and other forces), rapid development and transit of systems and equipment including radar, missile, artillery, communicative, electronic eavesdropping under the full monitoring coverage of Khatam ol-Anbia Air Defense Base," military spokesman Abbas Farajpour Alamdari told IRNA.
The first day of drills made use of a wide range of monitoring equipment including radar systems, mobile watch posts, and ground-based and air-based eavesdropping platforms. The exercises are also meant to practice communication, missile and artillery deployment and responses to chemical, biological, cyber and nuclear attack.
The previous Defenders of Velayat Skies exercises were held last year in Shabestar, East Azerbaijan Province.