Pope Francis urges guns to be 'still forever' in Syria amid Christmas celebrations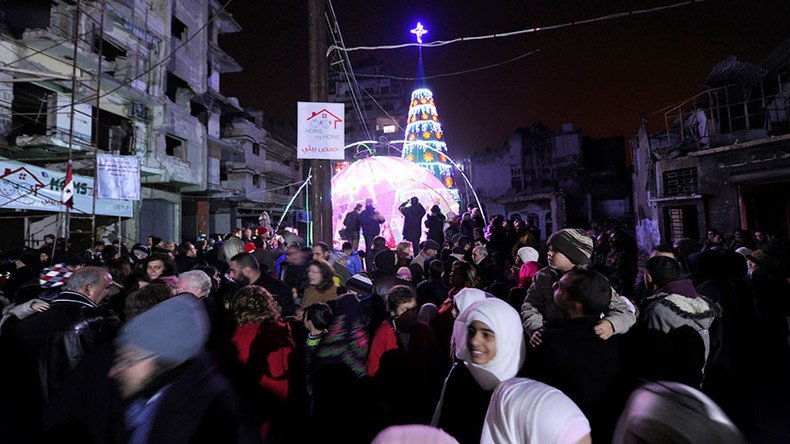 Christmas services were held nationwide in war-torn Syria just a week after government forces liberated Aleppo. Amid new hopes of an end to the years-long conflict, both the Pope in Rome and Orthodox hierarchs in Syria prayed for a long lasting peace.
Pope Francis, addressing over 40,000 Catholics in St. Peters square in the Vatican, asked worshipers to pray for all those who suffered from "idolatry of money," manifested in the human suffering in war-torn countries such as Syria.
Francis urged his flock to pray for peace on Christmas day as millions of people celebrated the birth of Jesus Christ (according to the Gregorian calendar) on December 25.
"It is time for weapons to be still forever [in Syria], and the international community to actively seek a negotiated solution, so that civil co-existence can be restored in the country," the pontiff said. "Peace to the peoples who suffer because of the economic ambitions of the few, because of the sheer greed and the idolatry of money, which leads to slavery."
The Pope was speaking as hundreds of churches in Syria conducted their Christmas services. In the recently-liberated Aleppo, Greek Orthodox Patriarch of Antioch and All East John X Yazigi led a festive service at the St. Elias Greek Orthodox Church.
During his Christmas sermon, the patriarch thanked thousands of locals for their "steadfastness and their commitment to their land," and overcoming the "great victory of Aleppo and its salvation from terrorism," Syrian state news agency SANA reported.
Liturgies were also held at the Malkite Greek Catholic Cathedral of the Dormition of Our Lady in Damascus, where Archbishop Joseph Absi led the Christmas service.
Peace, Absi said, is "looming on the horizon." He promised his flock that Syria would once again become "a paradise" as national reconciliation paves the way for nationwide "security, happiness, and prosperity."
An Orthodox service was held at the St. George Syrian Orthodox Church in Damascus. Prayers were led by Mar Ignatius Aphrem II Karim, Supreme Head of the Universal Syriac Orthodox Church. Bishop Armash Nalbandian, Primate of the Armenian Church of Damascus, also took part in celebrations.
Patriarch Aphrem delivered the Christmas sermon in which he congratulated the Syrians on Aleppo's liberation from terrorism, considering that "this joy is marred by the absence of the bishops of Aleppo, John Ibrahim and Boulos Yazigi, hoping and praying that they will return soon," SANA reported.
"We are celebrating Christmas in a time when beloved Syria is suffering from war, destruction, killing and displacement due to terrorist groups," he added.
"Terrorist groups would not have been able to commit all these crimes and sabotage without the complicity of some neighboring countries and international powers which supported, funded and armed these groups under the pretext of freedom, democracy and respect for human rights," Patriarch Aphrem said.
Other services were also held throughout Syria including in Daraa, Hasaka and Latakia provinces.
An RT crew on the ground was the first channel to share footage of Christmas preparations and celebrations in the liberated city of Aleppo. The scenes also highlighted the destruction of Christian churches and shrines, that locals have endured for years.
Christians in Syria, which made up roughly 10 percent of the pre-war population, were caught in the crossfire of an ongoing civil war between the government and rebel groups who control part of the Syrian territory. The Christian minority has been particularly targeted by Islamic State (IS, formerly ISIS/ISIL) and other jihadist gangs.
Christians, along with many other civilians, have been killed, raped, sold into slavery, and lost their homes and livelihoods, forcing multitudes to flee as refugees.
You can share this story on social media: