'My boy, my love, my life': Last photographs of Tu-154 crash victims emerge on social media
Relatives and loved ones of those who were on board the fatal Russian flight en route to Syria shared their memories of those who died in the Sochi plane crash on Sunday.
A woman named Yulia Galkina posted a photograph of a man on board a plane on Russian social network VKontakte, and wrote, "my boy... my love... my life... you are the best on Earth!!! I've always told you this ..rest in peace!!"
The man with his thumb up was Aleksandr Shtuko, who performed in the choir of the Alexandrov Ensemble. He was one of the 64 members of the internationally-acclaimed Russian army band, who had been traveling to Syria to give a festive concert during winter holiday celebrations.
Aleksandr's mother, Nina Fedorovna Shtuko, said she had not wanted her son to go.
"That was the only trip I ever asked him not to make. I begged him for a week not to fly this time," the devastated woman told RT.
Read more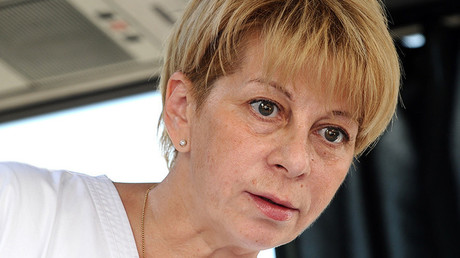 Speaking of her son as a "very kind, compassionate and caring" man, she said she had last heard from Aleksandr several hours before the tragedy. "He called me from the plane and said he would land by five in the morning. He promised to send me an SMS. I waited until five and there was nothing, so I called him myself, but his phone was out of coverage. I didn't know anything until my daughter called me in the morning and said that the plane Sasha was flying on crashed," she said.
The woman added she felt sorry for everyone who had been on board.
"The most peaceful people died – musicians, singers, who had nothing to do with war, but were just singing patriotic songs with their beautiful voices," she told RT, adding "they were worthy people, gathered together one by one for many years. They were the pride of Russia, and now the entire ensemble has been killed."
The best friend of another singer, Evgeny Bulochnikov, who had been on board the plane said the tragedy was even more horrific as many young men were killed, leaving many widows with children.
The wife of 30-year-old ensemble artist Dmitry Litvyakov shared the last messages she received from her husband ahead of the fateful flight.
"Go to bed my sweetheart )) I don't know how long the flight will be," the man wrote to his wife Valentina and their little son Matvey, Lifenews reported.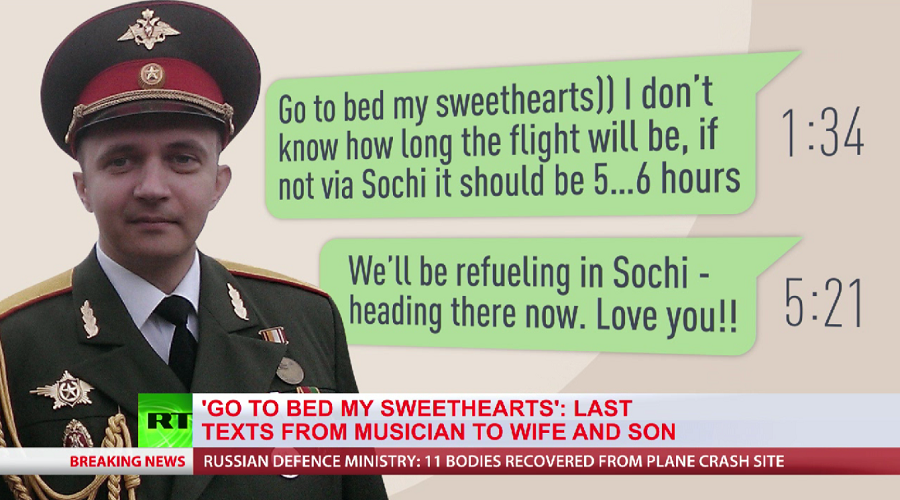 Women were also flying to Syria – the ensemble included a ballet in which young dancers performed.
People shared photographs of the beautiful and talented ballerinas, who joined the ensemble after rigorous auditions.
One of the girls, Raliya Gilmanova, had met her love in the ensemble, Mikhail Vasin. The couple had been preparing for their wedding when they both tragically died in the crash, Russian media reported.
The plane itself was also photographed by one of its passengers just hours before it disappeared from radars in Sochi. A Russian television crew member, NTV's Evgeny Tolstov, took the picture of the Tu-154 at a snowy military airport near Moscow.
Having posted the image on Facebook, he said he was traveling to Latakia, Syria.