Blaze destroys 28 containers sheltering refugees in Hamburg (VIDEO)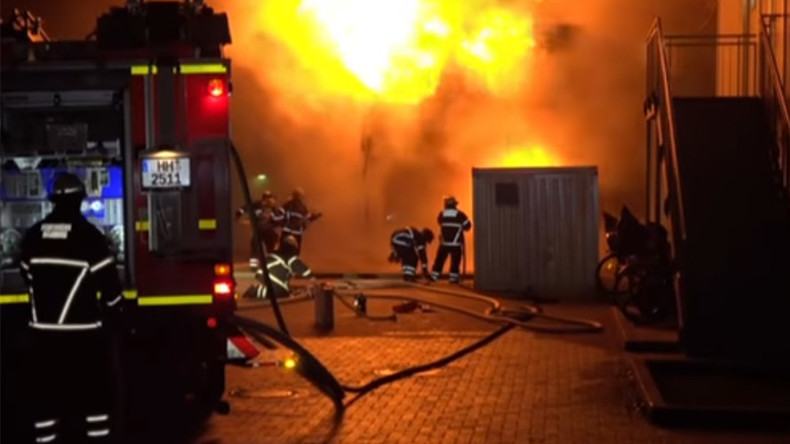 Dozens of refugees have miraculously escaped a fire which suddenly erupted at a refugee center in a Hamburg suburb. A total of 28 residential containers were totally destroyed in the blaze.
Hamburg's fire brigades were alerted at 4:57pm local time during the ongoing refugee camp fire in the Bergedorf district of Hamburg. The authorities immediately dispatched forces to deal with the flames.
As more emergency calls were placed, the fire department raised the alarm level, indicating that "human life [was] in danger." When rescue teams arrived, they found a crowd of about thirty people watching their shelters burn to the ground.
Firefighters were able to contain the blaze, with no serious injuries reported, except for one individual who was hospitalized due to smoke poisoning. A total of 28 residential containers, which together made a two-story makeshift building burned down. A total housing area of 300 square meters was destroyed, a spokesman for the fire department told journalists, Berliner Morgenpost reported.
Two people are still reportedly missing after the blaze. The firemen did not find any corpses in the debris and assume that they are still alive. The spokesperson was initially unable to provide information about the causes of the incident as the investigation continues. According to eyewitnesses, a violent bang was heard in the neighborhood before the fire erupted.
Following the incident, 37 residents that lost their homes had been transferred to other accommodation facilities in the city, Hamburg social services announced.
You can share this story on social media: