Aleppo liberated, country-wide ceasefire now possible – Russian defense minister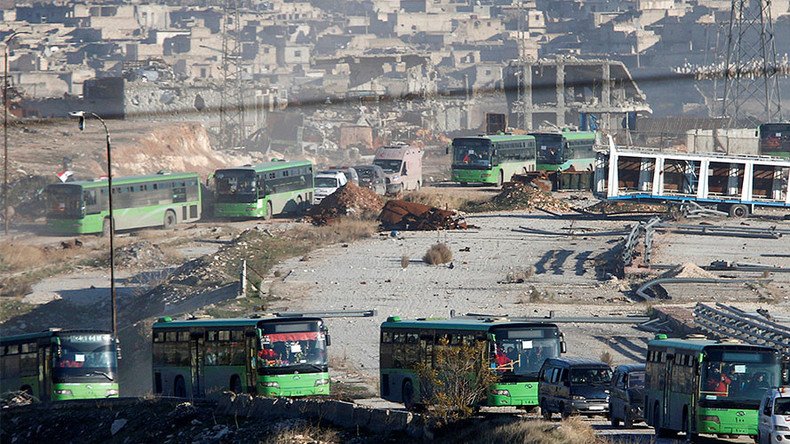 All rebel fighters have been evacuated from the Syrian city of Aleppo, the Russian defense minister reported. This paves the way for a country-wide ceasefire for all forces willing to observe it.
"The operation conducted on your order involved tight contact with our colleagues from Turkey and Iran," Russian Defense Minister Sergey Shoigu reported to President Vladimir Putin on Friday. "The next phase should follow. I believe we are on the verge of reaching an agreement on a full ceasefire in the territory of Syria."
The report came shortly after the Syrian Army declared the entire city free from anti-government armed groups after a week-long evacuation of rebel fighters and their family members from the city.
Putin concurred with Shoigu's prioritization of a truce, saying that "everything should be done to stop hostilities in all of Syria."
"We will continue our work on a permanent reconciliation together with our partners in Iran, Turkey, of course the Syrian leadership, other regional nations and all states interested in such an outcome," the Russian president added.
Putin also praised the role played by the Russian military in the Aleppo operation.
"There is no doubt that this operation, especially its final humanitarian phase, succeeded with the direct involvement, possibly the decisive involvement, of our troops," he said.
Aleppo, one of Syria's biggest cities, was divided into government-held and rebel-held parts since 2012. Constant hostilities in the city resulted in widespread destruction and numerous civilian casualties.
In June, government forces launched an offensive against the insurgency, encircling the area under militant control and intensifying the pressure on them. In September, an attempt was made by Russia and the US to establish a ceasefire in the city and begin negotiations, but Washington failed to convince rebel forces to observe the truce, and Damascus launched the offensive again.
In October, government forces managed to capture many of the areas held by various armed groups, prompting negotiations and an agreement to evacuate anti-government fighters and their civilian supporters out of Aleppo. The evacuation, which started in mid-December, was supervised by humanitarian organizations like the Red Cross and the World Health Organization.
"During that phase, together with our Turkish and Iranian colleagues and the Syrian authorities, we made it possible to evacuate almost 34,000 people. Almost 14,000 of those are men, while about 8,500 are children," Shoigu reported.
The Russian military is currently involved in minesweeping the liberated areas, providing humanitarian aid to returning residents, and restoring basic utilities, the minister added. He lamented that some humanitarian organizations, which criticized Russia for blocking aid deliveries while fighting continued in Aleppo, are not eager to provide relief now, when it is safe.
"There is every opportunity today to allow in humanitarian convoys, which have been discussed so much," Shoigu said. "We see the opportunities, but we don't see those willing to deliver."
You can share this story on social media: