Moscow wants Saudi Arabia to join Russia-Turkey-Iran efforts for Syria peace – UN envoy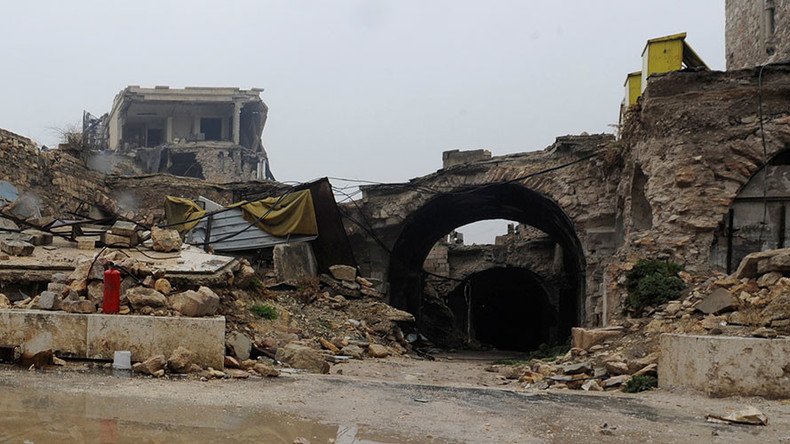 Moscow says that Saudi Arabia should join efforts to find peace in Syria undertaken by Russia, Iran and Turkey, Vitaly Churkin, Russia's UN envoy, said.
The Foreign Ministers of Russia, Iran and Turkey met in Moscow on Tuesday to draft a joint statement aimed at resolving the long term conflict in Syria.
According to Churkin, the document was "an extra effort by our three countries" to, among other things, prepare opposition forces "to negotiate with the government, and put them at the same table with the government, so they can develop between themselves some arrangements that would advance the political process."
It is "very important" that the statement by Moscow, Tehran and Ankara "contained an invitation to other countries that have influence 'on the ground' to join such efforts," he said.
"It seems to me it would be very important for Saudi Arabia to take a similar stance and work in the same direction," the envoy told Rossiya 24 channel.
The Russia-US talks on resolving the Syrian crisis have stalled, but Churkin says that the situation may change when Donald Trump replaces Barack Obama in the White House.
"I'm going to share my personal interpretation of the things I've heard recently," he said.
According to Churkin's information, the UN special envoy for Syria, Staffan de Mistura, said he planned to convene a new round of talks about Syria on February 8, 2017.
"I'm sure he (de Mistura) did it only after he had found an opportunity to contact the people on Donald Trump's team and to coordinate the date with them," the Russian UN ambassador said.
"That's good enough a sign because it could be indicative of the ability of the Trump Administration to steer the situation towards a rapid enough unfolding of the political process (in Syria)," Churkin said, again stressing that it was just his "personal interpretation of events."
He said that Russia is ready to cooperate with Nikki Haley, who Trump plans to propose for the next US envoy at the United Nations.
"She's a quite young governor of South Carolina, lacking international experience, but I heard some good comments about her," the Russian envoy said.
However, he stressed that he doesn't know Haley in person, which makes it hard to predict how the US delegation will act under her in the UN and with the Security Council.
READ MORE: 'Obama administration lost its game in Syria' – Russian senator
"Anyway, I think it's early to relax and expect that we're going to have some kind of nirvana in our work at the UN. It's going to be a bit more complicated in real life," Churkin said.
The pullout of militants from the Syrian city of Aleppo "is being completed," Kremlin spokesman, Dmitry Peskov, said Wednesday.
Aleppo was the last major city being held by the rebels in the country, with their withdrawal being agreed though Russian and Turkish mediation.
READ MORE: Russia, Turkey & Iran ready to be guarantors in resolving Syrian crisis – Russian defense minister
According to estimates by Russian officials, the evacuation of civilians from eastern Aleppo, which has been under rebel control since 2012, is expected to conclude in a few days.
You can share this story on social media: