UN Security Council unanimously passes resolution on monitoring Aleppo evacuations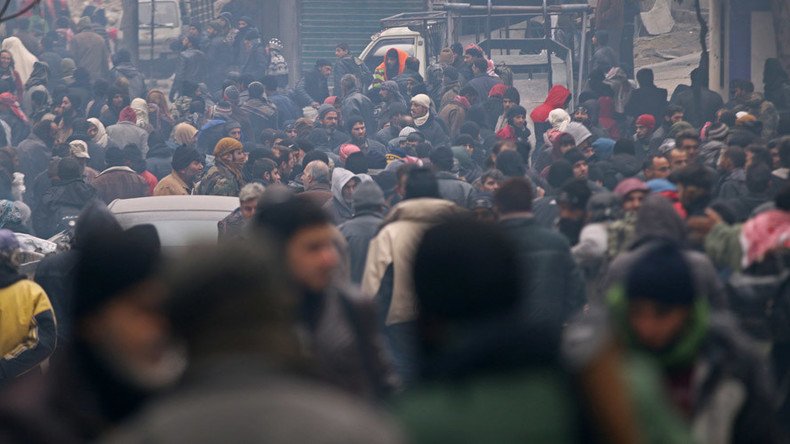 The UN Security Council has unanimously passed a resolution requiring the monitoring of evacuations from Aleppo.
The resolution, initially drafted by France, was originally called a "disaster" by Russia's UN envoy Vitaly Churkin.
However, Moscow and Paris came to an agreement on the text after more than three hours of closed-door consultations by the Council on Sunday.
The resolution asked UN Secretary-General Ban Ki-moon "to take urgent steps to make arrangements, including security arrangements in consultation with interested parties, to allow the observation by the United Nations and other relevant institutions of the well-being of civilians… inside the eastern districts of the city of Aleppo."
It asked for "adequate, neutral monitoring and direct observation" of the evacuations to take place, as well as for all parties to provide monitors with "safe, immediate, and unimpeded access."
The UN resolution adds up to the actual process that is being carried out on the ground, Russia's Foreign Ministry said on Monday, adding that humanitarian aid to civilians in Aleppo was being provided before the document was adopted.
It is important that the agreement reached proves the Security Council members' adherence to Syria's sovereignty, independence and territorial integrity, the ministry said.
The evacuations are part of a Russia- and Turkey-brokered deal between the Syrian government and opposition. It allows for the evacuations of militants and their families from eastern Aleppo, in exchange for the departure of civilians from the northern rebel-held villages of al-Foua and Kefraya, Idlib province.
Syria's UN ambassador, Bashar Jaafari, said the final evacuations of militants are currently taking place in Aleppo, and the city will be "clean" by Monday evening.
"The last terrorists… are evacuating their strongholds and Aleppo this evening will be clean," he said, as quoted by Reuters.
You can share this story on social media: