Civilians return to 'normal' life in liberated, ruined E. Aleppo (VIDEO)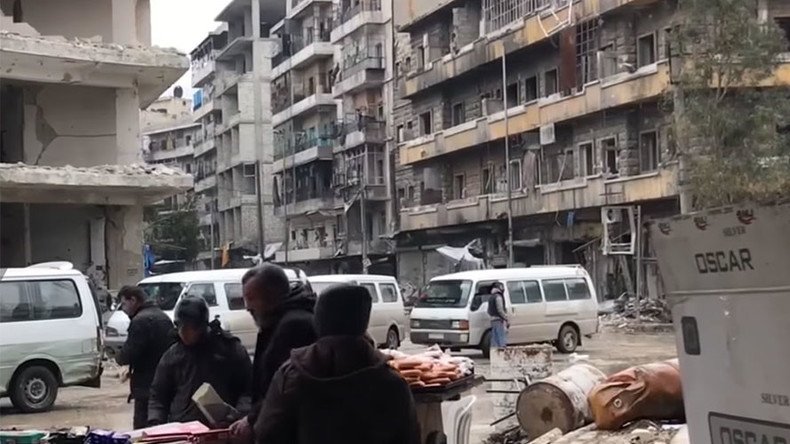 Two weeks since the liberation of the Alshaar neighborhood in eastern Aleppo by the Syrian army, life is gradually resuming its course. More locals are returning to breathe life into devastated streets as heavy machinery clears the rubble.
While ramshackle buildings with crumbling facades and piles of rubble still serve as a vivid reminder of the heavy fighting that forced scores of civilians to flee their homes, now more and more are coming back to the neighborhood. Small stalls selling bread and cigarettes have already popped up on squares as cars began filling narrow roads.
"The situation is good. People are coming back. It's safe and stable and God bless our Syrian Army and our government and President Bashar Assad," one vendor, who himself returned just a week ago, told RT's Ruptly video agency.
A boy at the next stand, selling cigarettes and snacks, has been in the neighborhood for two weeks already.
"Many people came back to their houses and shops are opened selling vegetables and other things," he told Ruptly. He began working at the improvised market just a few days after it was completely cleared of militants.
Earlier, locals in another parts of recently liberated eastern Aleppo neighborhoods gave RT firsthand accounts of what they had to endure when under rebel control and what they feel now, after liberation.
The locals said they signed with relief as the rebels left.
"They starved us, we suffered a lot. I cried day and night," an elderly woman said. "When the terrorists were there the doctors treated only them and never helped civilians."
"We're so glad this is happening. We are fed up with the militants with their shellfire and terror. I hope they will never come back," a mother told RT.
Michael Raddie, co-editor at BSNEWS.info, described to RT the reaction by the Western governments to Aleppo liberation as "complete meltdown of humanity" and "insanity."
"When we see the people escaping captivity and running towards the safety and the medical assistance provided by the Syrian government and even the Russian government. This is the safety and this is security. They know this. This is why they are celebrating, this is why we see people dancing in the streets," he said.
"The Western governments have been hell-bent on regime change in Syria. They got the cards on the table and they have to double-down and say 'This is the fall of Aleppo.' This is insanity," he added.
Meanwhile, some 50 buses brought evacuees from the last rebel-held district of Aleppo to the rebel-held areas outside the city, a UN official told Reuters. At the same time, 10 other buses carrying evacuees from the militant-held villages of al-Foua and Kafraya, Idlib province, arrived in Aleppo early on Monday, according to Syrian state television.
This was part of evacuation deal between the rebels and the Syrian government. The plan was hanging on the brink Sunday, however, as five buses that were to take people from al-Foua and Kafraya were attacked and burned out on their way there.
You can share this story on social media: