Thousands rally against Polish govt outside constitutional court in Warsaw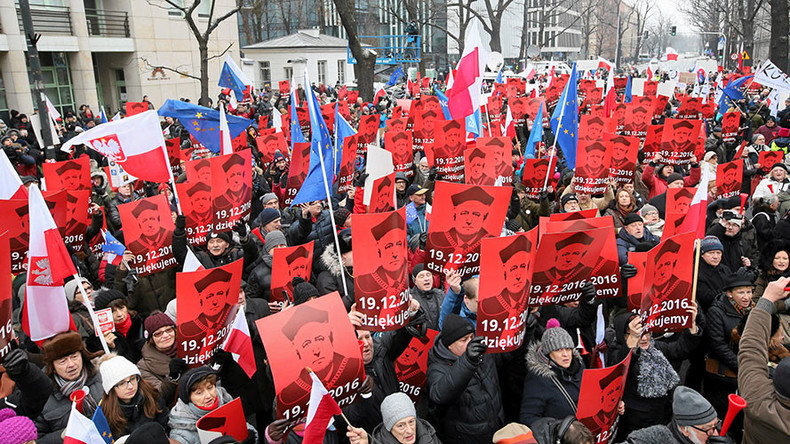 Poles biggest political standoff with their government gained momentum with a new protest outside the constitutional court, while a sit-in rally near parliament triggered by media restriction law continues.
Members of Poland's Committee for the Defence of Democracy and thousands of Warsaw citizens gathered outside the Constitutional Tribunal building in Warsaw on Sunday. People took to the streets in support of the court's outgoing president, Andrzej Rzeplinski, standing against the policies of the ruling Law and Justice party.
Demonstrators waved EU and Polish flags and carried placards depicting Rzeplinski, whose term expires on December 19. Law and Justice is poised to gain control over one of the most important checks on executive power.
Prime Minister Beata Szydlo's government struggles to bring changes to the makeup of the Tribunal Court, arguing that the current legal system in Poland still bears traces of its communist legacy.
On Thursday, the Polish parliament, dominated by the Law and Justice party, elected law professor Machal Warcinski for a nine-year term to replace Rzeplinski. Warcinski was supported by 231 MPs, while 179 voted against and five others abstained from voting.
The Polish Constitutional Court crisis started in October 2015, when the centrist Civic Platform party was still in power. It escalated quickly when Law and Justice won the elections in October and introduced changes to the decision-making power of the court. The amendment triggered mass protests last December and early January throughout Poland. In July, the European Commission carried out an unprecedented probe into Poland's rule of law, finding that "there was a systemic threat to the rule of law in Poland."
Protesters at the tribunal building on Sunday proceeded to the Polish parliament where a demonstration continues for a second day in a protest against new media law limiting access to parliamentary debates put forward by the ruling Law and Justice. Only five TV stations will be allowed to cover the sessions – a move seen as a clampdown on media by opposition forces.
President Andrzej Duda met with opposition leaders on Sunday in an effort to resolve the crisis, however, it's not yet clear whether his actions have taken effect.
A crowd of government supporters waving white-and-red national flags gathered outside the Presidential Palace demonstrating approval for President Andrzej Duda's mediating efforts, AP reported.
The fresh round of unrest in Poland started on Friday. About 2,000 protesters chanting "freedom, equality, democracy!" gathered in front of the Presidential Palace in Warsaw. After that, they moved to the parliament building. At the same time opposition lawmakers tried to block a vote on the state budget in parliament, claiming it was illegal and falsified. However, leader of the ruling Law and Justice party, Jaroslaw Kaczynski, remained deaf to the opposition members' and protesters' calls. Police had to forcefully pull away protesters and reportedly used tear gas so that Kaczynski and other leading members of parliament could leave the scene.