Beijing will return US drone, slams Washington for 'inappropriately' hyping incident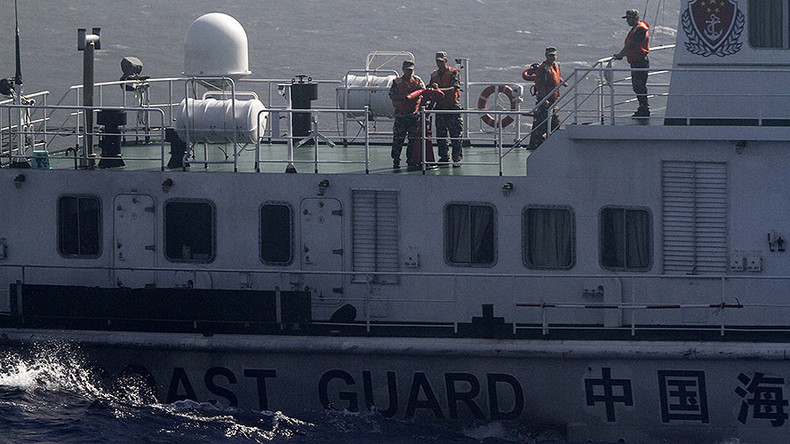 Beijing says it has decided to return the underwater US drone that the Chinese military seized in the South China Sea earlier this week, but criticized Washington for dramatizing the incident.
A Chinese military source confirmed to the Chinese daily Global Times that they had received a "claim request" from the US for the underwater drone.
US President-elect Donald Trump accused Beijing of "stealing" the device on Saturday.
"China steals United States Navy research drone in international waters – rips it out of water and takes it to China in unprecedented act," he wrote on Twitter.
However, Beijing pointed out that the US military has repeatedly dispatched vessels and aircraft to carry out "close-in reconnaissance and military surveys" within Chinese waters.
"China resolutely opposes these activities, and demands that the US side should stop such activities," Chinese Defense Ministry spokesperson Yang Yujun said late on Saturday, as quoted by state-run Xinhua news agency.
Beijing will "continue to be vigilant against the relevant activities on the US side, and will take necessary measures in response," the spokesperson warned.
According to the Chinese Defense Ministry, a Chinese naval vessel spotted a piece of "unidentified equipment" on Thursday and examined it in a "professional and responsible manner" in order to "prevent it from causing harm to the safety of navigation and personnel of passing vessels."
"China decided to return it to the US side in an appropriate manner, and China and the US have all along been in communication about it," the ministry said on its website.
"During this process, the US side's unilateral and open hyping up is inappropriate, and is not beneficial to the smooth resolution of this issue. We express regret at this," it added.
The drone was seized while collecting unclassified scientific data, Navy Captain Jeff Davis, a Pentagon spokesman, said on Friday, adding that the device is worth about $150,000.
"It is ours. It's clearly marked as ours. We would like it back, and we would like this not to happen again," Davis told reporters.
The incident occurred some 92 kilometers (57 miles) northwest of Subic Bay near the Philippines in the South China Sea, he said, according to AP.
The Pentagon confirmed that an agreement to hand over the drone had been reached on Saturday through negotiations.
"Through direct engagement with Chinese authorities, we have secured an understanding that the Chinese will return the UUV to the United States," Pentagon spokesman Peter Cook said in a statement, Reuters reported.
According to a report from the National Institute for South China Sea Studies (NISCSS) released late last month, China has recently become the "No. 1 targeted country" of the US. More than 700 patrols were conducted by US vessels and aircraft in the South China Sea region in 2015.
"Such activities have not only threatened China's national security, damaged China's relevant maritime rights and interests and undermined Sino-US strategic mutual trust, but is also very likely to lead to accidental collisions at sea or in the air, making it an important negative factor affecting Sino-US relations and also peace and stability in the region," the report from the government think tank noted.
China steals United States Navy research drone in international waters - rips it out of water and takes it to China in unprecedented act.

— Donald J. Trump (@realDonaldTrump) December 17, 2016
"China could possibly set up an Air Defense Identification Zone in the South China Sea if the US continues to intensify patrols and low-altitude spying in the region," Wu Shicun, the head of the National Institute for South China Sea Studies, told reporters in Beijing in November, as quoted by Bloomberg.
The South China Sea has been at the center of tensions between multiple nations that claim sovereignty over parts of the waterway and its offshore resources. China, the Philippines, Vietnam, Malaysia, Brunei, and Taiwan – which Beijing considers part of its territory – have overlapping claims in the region. In July, a United Nations court of arbitration ruled that there was no evidence that China historically had exclusive control over the waters or resources, hence there was "no legal basis for China to claim historic rights."
Beijing continues to claim some reefs in the South China Sea in defiance of a Hague International Arbitration Court verdict, however.
Meanwhile, the US Navy has intensified its activities near the artificial islands that Beijing has built, constantly cruising in and flying over the disputed waters. Despite Beijing's complaints, Washington argues that its maneuvers are being conducted in accordance with the internationally accepted principles of Freedom of Navigation (FON).
You can share this story on social media: