'Italy, not Saudi': Catholic priest slammed for scrapping Nativity scene to avoid offending Muslims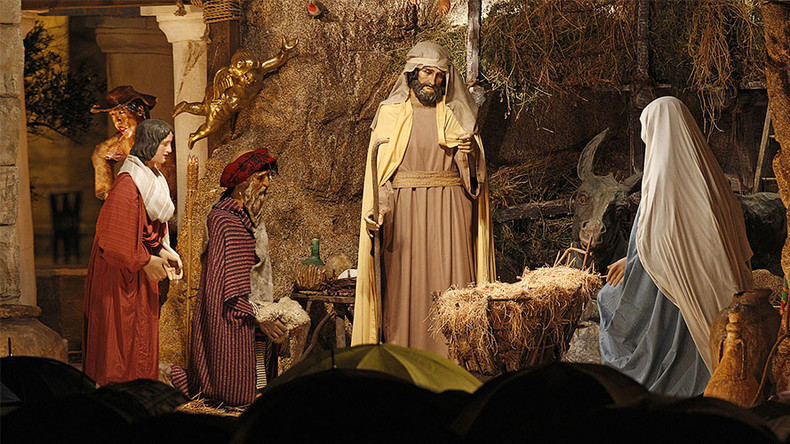 A Catholic priest in Italy came under fire after he canceled an annual Nativity scene, saying it could offend Muslims. The move triggered a wave of criticism, his predecessor calling him to remember that he lives in Italy and "not in Saudi Arabia."
The move took place in the city of Cremona, northern Italy, when Father Sante Braggie, chaplain of the Municipal Cemetery, said there would be no nativity scene at the entrance of the local graveyard this Christmas, local media reported.
A nativity scene is the special exhibition depicting those gathered after the birth of Jesus. It is usually exhibits figures of the infant, his mother Mary and her husband Joseph, as well as shepherds, sheep, and angels.
According to Father Sante Braggie, 57, the Nativity scene could offend people who belong to other religions and whose relatives have been buried in the cemetery.
"A small corner of the cemetery is reserved for Muslim graves," he said, as cited by Italian Corriere della Sera newspaper. "A crib positioned within sight of them could be seen as a lack of respect for followers of other faiths, hurt the sensibilities of Muslims, as well as Indians and even atheists."
"In short, it would be a mess," he added.
However, not everyone in the city was pleased by the move. Sante Braggie's predecessor, Father Oreste Mori, called it "an unpardonable weakness."
"We cannot renounce our culture and traditions. I am, for the time being at least, in Italy, not Saudi Arabia," he said.
A regional councilor with responsibility for culture and identity, Cristina Cappellini also criticized the move, saying that she hopes Sante Braggie "changes his mind and apologizes to the community."
"A parish priest should preserve, honor and promote the symbols of our culture, of our traditions, of our Christian identity," she said as cited by Italian media.
Social media users have also expressed their outrage.
"This is submission of religion," wrote one person, while another added: "Muslims should comply with our traditions."
"He should be excommunicated and expelled!" "He has no respect for Christmas!" "What a shame" various angry people tweeted.
Later the Diocese of Cremona issued a statement, saying that the priest's words had been misinterpreted in the media.
"The right integration and fraternal encounter among people of other faiths does not imply the cancelation of their roots and identity, but it demands respect, mutual exchange and knowledge of different religious traditions, especially when they – as the message of Christmas – transmit a message of peace and unity among all peoples," the diocese added.
"They called me even from Dubai," the priest later told the Italian press, adding that the Nativity scene would be reinstalled in a different, "safer" location. It is not yet clear exactly where that will be.
You can share this story on social media: