EU demands Serbia close Russian-Serbian Humanitarian Center – Lavrov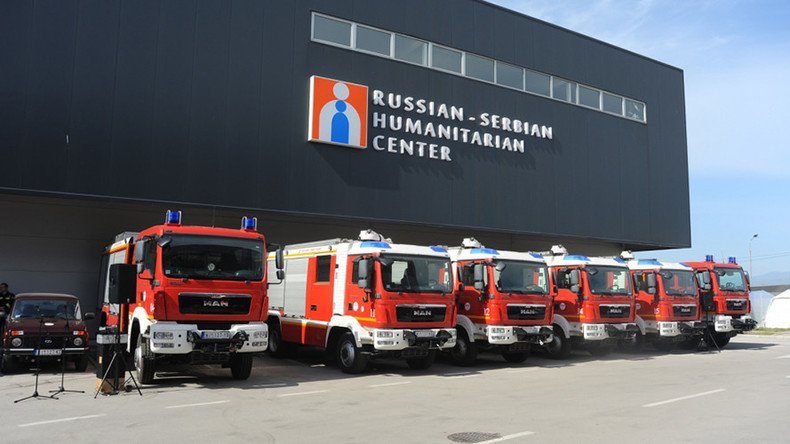 Brussels insists that Serbia should shut down the Russian-Serbian Humanitarian Center if it wants to join the EU, Russian Foreign Minister Sergey Lavrov said, adding that the EU is trying to drive a wedge between Belgrade and Moscow.
The EU "regards the Russian-Serbian humanitarian center in [the city of] Nis as a spies' nest and a threat to the European security," Lavrov told Sputnik news agency during his visit to Serbia on Tuesday, adding that Russia is "aware of the fact that Brussels demands that Serbia close the center if it wants to join the EU."
He went on to slam the EU for insisting that Serbia "should behave in the same way as the leader of Montenegro, who betrayed all [their] commitments and promises, betrayed Russia, although Russia did not do anything to [them]," referring to Montenegro's signing of the NATO Accession Protocol in May 2016.
The foreign minister also criticized the EU for ignoring the fact that the humanitarian center in Nis takes an active part in remedying the consequences of the Yugoslav Wars, and has removed about 1,500 mines and other explosive devices from Serbian soil.
He went on to stress that the center also provides assistance in fighting fires in southern Europe, including some EU countries, but the union "prefers to keep silent about it."
The Russian-Serbian Humanitarian Center was established in Nis in April 2012. It provides humanitarian assistance in emergency situations in Serbia and other Balkan countries. It also provides training for emergency response groups.
Lavrov also emphasized that the real agenda behind the EU's policy is to drive a wedge between Moscow and Balkan countries such as Serbia and Montenegro to undermine Russian interests in the region.
On Monday, Lavrov compared the EU with the Soviet Union, saying that its ideology-driven policy, as well as the pressure it exerts on its members and Associated and Candidate Countries is highly reminiscent of the USSR.
He particularly slammed the EU instructions which demand that EU member states and candidate countries condemn the "annexation of Crimea" and "occupation" of eastern Ukraine. The minister called the policy "absurd," and warned the EU against repeating the mistakes of the Soviet Union by prioritizing "ideological dogmas over economic interests and essential interests of its members."
At a European Council meeting in October, President Donald Tusk said that "Russia's strategy is to weaken the EU," citing "airspace violations, disinformation campaigns, cyber-attacks, interference into the political processes."
Lavrov sharply criticized Tusk's statement, calling it "blatantly Russophobic" and "short-sighted."
"Nothing could be further from the truth than such unfounded allegations," Lavrov said in response, stressing that Russia has no interest in weakening the EU.
You can share this story on social media: