Territorial claims come from Tokyo, not Moscow, Putin tells Japanese reporters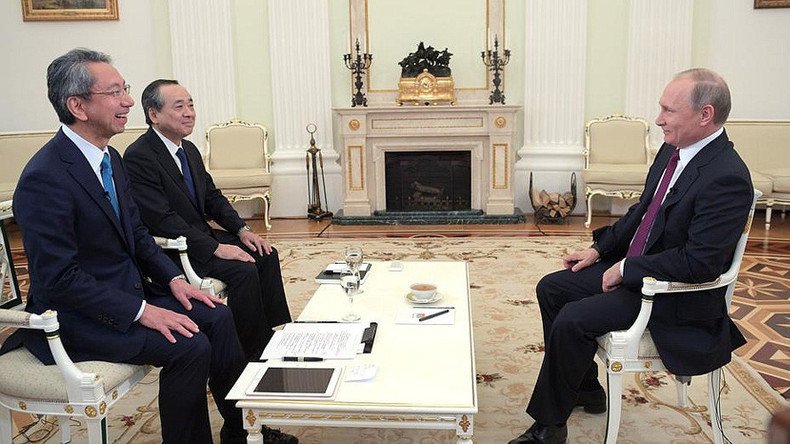 Tensions between Moscow and Tokyo over the disputed Kuril Islands come from the Japanese side, Russian President Vladimir Putin told Japanese interviewers. He added that the example of China shows that such disputes can be resolved.
"We believe that we have no territorial problems whatsoever. It is Japan who believes it has territorial disputes with Russia. We are ready to discuss this," Putin said, referring to Japan's claim over four islands in the Kuril Archipelago, an issue that remains a big stumbling block in the relations between the two countries.
"We are natural partners in the world and the Asia-Pacific, but the absence of a peace treaty deprives us of an opportunity to develop our relations in a multifaceted way," the Russian leader told Kasuya Takayuki, CEO of Nippon Television Holding, and Takeshi Mizoguchi, editor-in-chief of Yomiuri newspaper. He added that the state of ceasefire between the two countries is an "anachronism" that "must be eliminated."
The interview came ahead of Putin's much-anticipated visit to Japan, where he is expected to meet Prime Minister Shinzo Abe later this week. Finding ways to settle the decades-long dispute over the Kuril Islands and sign a peace treaty between Russia and Japan will reportedly dominate the meeting's agenda, as it did in Putin's interview to the Japanese media.
Building trust between Moscow and Tokyo through humanitarian, cultural, and trade relations would lay the groundwork to a peace treaty, the Russian President noted, adding that Russia and China have taken this path, successfully settling their territorial issues as a result.
"We settled our border issue. This didn't cause any significant problems, if any, in either China or Russia, even though both of us agreed to concessions and compromise. That was a compromise between two friendly nations," Putin explained.
Russia and Japan may settle their historical conflict, Putin said, but Russia is uncertain how far Japan is prepared to go, considering its "obligations to its allies."
"With China we have the highest volume of bilateral trade and continue to liberalize our trade relations. Meanwhile, Japan imposed economic sanctions against us. Do you see the difference?" he asked rhetorically.
"I am not the one to judge what Japan could and should have done. That is absolutely not my business; it is up to the Japanese leadership. But we have to understand how the totality of our agreements would fit Japan's obligations to its allies and how independent it is in making such decisions," the Russian leader added.
The Kuril Islands stretch between the northernmost Japanese island of Hokkaido and Russia's Kamchatka. The entire archipelago is currently administered by Russia, which received them after WWII under the 1945 Potsdam Declaration. Japan claims sovereignty over the two southernmost large islands of Iturup and Kunashir, as well as the Shikotan and Habomai islets, citing their history as Japan's northern territories.
In 1954, Tokyo and Moscow restored diplomatic ties and trade relations by signing a joint declaration, which also stated that the two islets would be handed over to Japan after the two nations sign a proper peace treaty. This never happened, as Japan aligned itself with the US during the Cold War and pressed its territorial claim over all four islands.
In the interview, Putin reiterated his earlier position towards US President-elect Donald Trump, saying that his intention to restore ties with Russia is welcomed in Moscow, but that he is yet to live up to expectations. He also repeated his criticism of US President Barack Obama and the notion of American exceptionalism.
"Certainly, the United States and the American people are a great country and a great people; there is no doubt about that. But calling them exceptional, I believe, is going too far. It creates problems in relations, and not only with Russia, as I see it," Putin said.
"The president-elect has his personal attitude to things," he added. "His determination to 'make the USA great again' – we should see how he implements this, but we hope this wouldn't pose a problem for our cooperation."
You can share this story on social media: