Iran, Turkey held secret talks on Syrian ceasefire, transition govt – report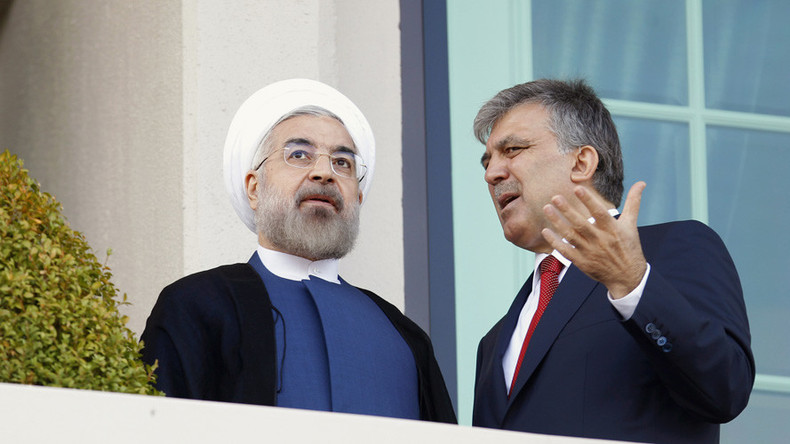 Iran and Turkey held at least two rounds of secret high-level talks on a ceasefire and political reform in Syria, but failed to agree, as Ankara wanted President Bashar Assad to step down and unexpectedly entered the Syrian conflict, a think tank claims.
The low-key discussions took place in 2013 and as recently as this year, according to a new report from the International Crisis Group (ICG), which features in-depth interviews with top officials in Tehran and Ankara.
Read more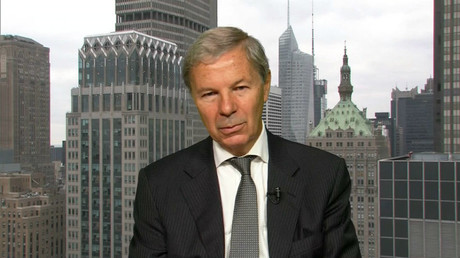 Entitled 'Turkey and Iran: Bitter Friends, Bosom Rivals,' it says that, in September of 2013, three months after the election of moderate Iranian president Hassan Rouhani, Tehran offered Ankara a roadmap to peace in Syria. Highlights from the report have been published by The Guardian.
The peace proposal was allegedly drafted in consultation with General Qassem Suleimani, the head of the powerful Quds Force of Iran's Revolutionary Guards Corps (IRGC). It included measures intended to pave the way to a ceasefire in Syria, which was to be followed by constitutional reforms aimed at limiting presidential powers. Notably, the roadmap also included presidential and parliamentary elections held with UN oversight.
Although Iranian Foreign Minister Mohammad Javad Zarif and his Turkish counterpart, Ahmet Davutoglu, discussed the comprehensive yet promising plan for several months, it was eventually derailed when Ankara insisted that President Bashar Assad be removed from power.
"We agreed on every detail, except a clause in the final phase of the plan which called for UN-monitored elections. Turkish leaders wanted Assad barred," Zarif was quoted as saying in the ICG report.
"I noted that this should not be a concern in an internationally monitored election, particularly if, as Turkey holds, Assad has a dreadful record and a minority constituency," he said, adding that Davutoglu had refused and the peace talks stalled.
According to the report, the Turks believed Assad's days in power were numbered because the Syrian army was suffering defeat on almost all fronts at the time. "Our government did not pursue an agreement with Iran because it thought Assad would be toppled in a few months," Abdullah Gul, who was then president of Turkey, told the ICG.
Erdogan: Turkish forces are in Syria to end Assad's rule

Almost seven years since the outbreak of the 'Arab Spring,' the Middle East is an arena in which hard-line Shiite Iran and Turkey, whose ruling AK Party has roots in Sunni fundamentalism, vie for influence. Both Ankara and Tehran have different goals in Syria – Iran firmly backs Assad's government, which is mostly formed of Alawite Shia Muslims, while Turkey is supporting Syria's Sunni rebels.
A second round of talks began in July of this year following the failed military coup in Turkey. Iran promptly stated its support for Turkish President Recep Tayyip Erdogan amidst the attempt to overthrow him – an important message that allowed for an improvement in relations and a revival of negotiations on Syria.
However, they stalled again after two high-level meetings when Turkey launched operation Euphrates Shield, marking its direct entry into Syria's civil war and causing Iranian negotiators to question its trustworthiness.
The ICG report suggested that "Iranian officials expressed surprise Turkey had not notified them of the operation [Euphrates Shield] despite the presence of a senior Iranian official in Ankara the day before. Turkey may have feared that Iran would tip off the YPG."
Ankara had long insisted that the invasion was launched to secure Turkey's frontiers and target Kurdish YPG militias, but in late November Erdogan spoiled the game, saying the Turkish army in Syria actually aims "to end the rule of the tyrant al-Assad … we didn't enter] for any other reason."

The blunt statement came just days after Iranian President Rouhani had urged Turkey to return to peace negotiations on Syria and Iraq.
"Today when the region is in a critical condition, cooperation and consultation by Tehran and Ankara in resolving issues can make a difference," he told visiting Turkish Foreign Minister Mevlut Cavusoglu, according to Reuters.