Hamas offers Qassam rockets to any Arab army willing to fight Israel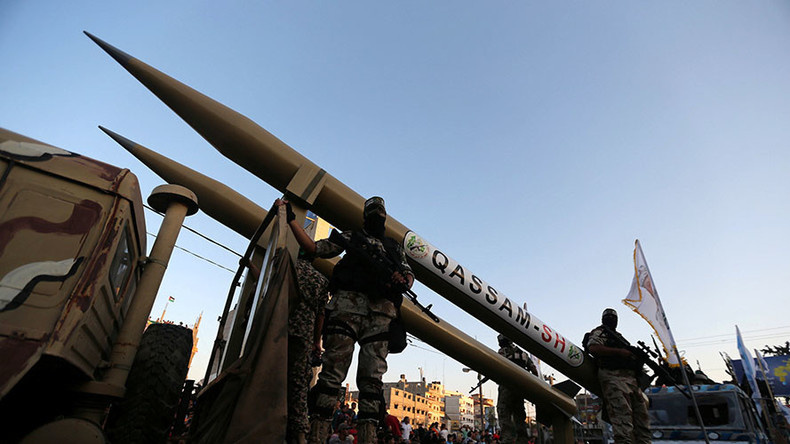 A Hamas official said the militant group is ready to share its Qassam rockets with any Arab army willing to fight the Jewish state. The rockets can match similar products offered by international arms makers, the official claimed.
The statement was made by Fathi Hammad, a Gaza-based Hamas official, who told Al-Aqsa TV channel, that the group was "ready to ship missiles manufactured by the movement's military wing, the Izz al-Din al-Qassam Brigades, to Arab armies so as to fight the Zionist entity," according to Palestinian Ma'an news agency.
Despite the all-out blockade of Gaza by the Israelis that effectively prevents military- or dual-use items from coming to the area, Hamas' military production can compete with that of international manufacturers, Hammad claimed.
However, the latter claim may be at odds with reality as Qassam rockets, indigenously developed and produced by the Hamas military wing, can only be used for indiscriminate fire against densely-populated areas.
Fairly primitive in design, the Qassam is propelled by a mixture of sugar and potassium nitrate, a widely-available fertilizer. The warhead is filled with smuggled or scavenged TNT and urea nitrate, another commonly-used fertilizer.
Weapons experts say Qassam rockets are too inaccurate, lack any guidance systems and are prone to malfunction, which complicate their use against specific military targets. But over the past years, Hamas has significantly upgraded the Qassams and developed the longer-range M-75 rockets, said to be able to reach Tel Aviv.
In addition, the militant group has reportedly received technologies of producing Iranian-made Fajr-5 missiles which have a range of up to 46.6 miles (75km). It means that Hamas is now able to strike right at Israel's civilian heartland, thus giving the group some military advantage.
Qassams, in turn, gained notoriety as the rocket most often deployed by Palestinian militants against Israeli civilians. Since mid-2000s, the rockets have killed dozens of local residents in Israel, despite efforts to curb their production and develop the Iron Dome, a state-of-the-art missile defense system designed to intercept the projectiles before they can hit their targets.
The use of the rockets against Israeli civilians, even in wartime, has been condemned by Palestinian authorities in the West Bank. In 2012, Mahmoud Abbas, president of the Palestinian Administration, said there is no justification for the rocket attacks, as they "do not bring peace any closer."
In 2014, Palestinian envoy to UN Human Rights Council Ibrahim Khreisheh told Israeli newspaper Arutz Sheva that "each and every missile constitutes a crime against humanity, whether it hits or misses, because it is directed at civilian targets."
Critics argue, however, that Israel deliberately exaggerates the threat posed by Hamas rocket arsenals to justify its own military operations and airstrikes in either the Gaza Strip or the West Bank.
You can share this story on social media: