Dutch MP Geert Wilders' far-right party rising despite his discrimination conviction – poll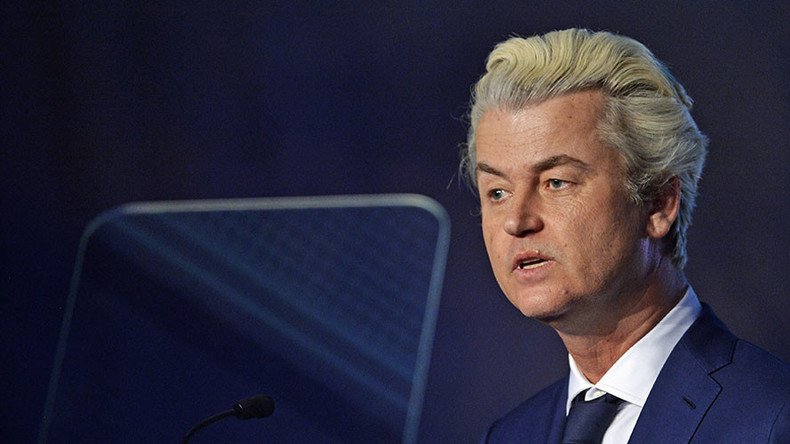 The Netherlands' far-right movement continues to make gains, with Geert Wilders' party rising in the polls despite his conviction for incitement of discrimination over comments on reducing the number of Moroccans in the country, according to a survey.
According to a survey by the Maurice de Hond Institute, Wilders' Party for Freedom (PVV) was polling at 27 seats before the trial began on October 31, but rose to 34 seats during trial – but before conviction.
The trend continued after his conviction for inflammatory remarks. According to the weekly poll, if next March's election were held this week, PVV would secure 36 out of 150 seats, making it the single strongest party in the Netherlands.
The PVV holds just 12 seats in the current parliament, meaning it would potentially triple its representation.
Prime Minister Mark Rutte's Liberals would place second with 23 seats against 40 today, and their junior coalition partner the Labour Party (PvDA) would place third, with only 10 seats as opposed to the 35 currently.
Despite the seeming lack of conviction among many Dutch that Wilders would be an apt leader for the country, his popularity continues to rise with people in liberal circles and beyond, who normally would not vote for a right-wing party, but have been seduced by Wilders' promotion of the idea that Islam is a bigger threat to Europe than anything else, his critics say.
Likewise, he has been surfing anti-Brussels sentiment in places like Volendam, where fishing quotas are a source of much discontent, as he reigns in the working-class vote as well.
This is happening despite Wilders' recent conviction for discrimination, following the inflammatory remarks he voiced at a rally last year. State prosecutors insist Wilders engaged in hate speech when he asked supporters if they wanted "fewer or more Moroccans" in the Netherlands.
After supporters chanted back "fewer," he replied: "We'll take care of it."
In a televised statement on the last day of the trial, Wilders denied inciting racial hatred and added that if he was convicted, "millions of Dutch citizens will be convicted with me."
Critics see the PVV's formula for success as essentially presenting the anti-establishment fight as a fight for liberal values.
But not everyone in the Netherlands is convinced Wilders represents that. Wilders critic and human rights lawyer Nadia Benaissa – who works with victims of abuse – gave her opinion to the Guardian.
"One of the main arguments they use are that Islamic women are being oppressed and yet these same women are overwhelmingly the target of attacks… They are mostly perpetrated by white men, though lately also by white women, stating that they should take their veils off, that they don't belong here," she said.
As with the trend across the wider EU, hate crimes and abuse have only been on the rise in Wilders' Netherlands. That is according to another (annual) poll by the Anne Frank museum, which puts hate crimes perpetrated on Muslims at three times the figures for other types of hate crime – the first time anything of this sort was recorded since data started being collected in the 1990s.
Wilders described his party as part of a growing anti-establishment right-wing movement that encouraged the Britons to vote for Brexit and American white blue-collar voters to support Donald Trump in the 2016 US presidential election. His one-page electoral program he made public in August is actually titled, 'The Netherlands is ours again' and calls for the closure of all mosques and Islamic schools, a ban on the Koran, and "no more immigrants from Islamic countries."
As the PVV's popularity surges, so does that of other right-wing parties across the EU – such as Marine Le Pen's National Front in France and the Austrian FPO's Norbert Hofer.
According to Le Pen, the developments could be referred to as the 'Trump effect' – or, simply put, a distrust of established political elites having their people's best interests at heart.
You can share this story on social media: