7 killed, full evacuation in Bulgarian village as cargo train derails & explodes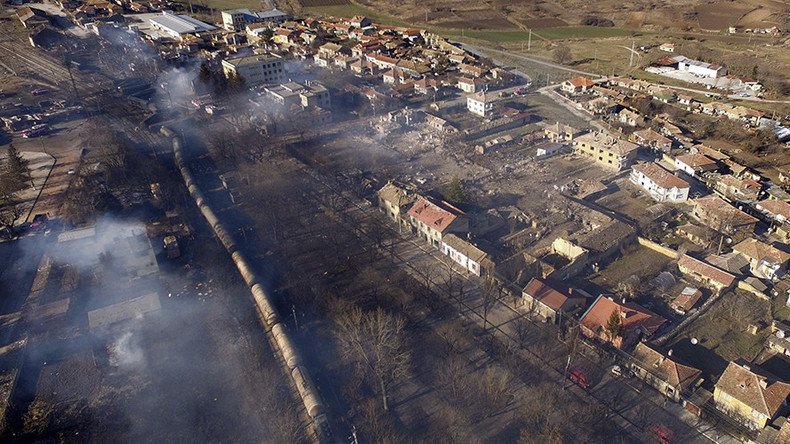 A full evacuation has been ordered in a northeastern Bulgarian village after a cargo train carrying liquefied petroleum gas derailed and exploded, killing seven people and wounding 29 more.
Residents of the village of Khitrino, in Shumen province in the country's northeast, were evacuated after the train, which had been carrying 26 tanks of propane-butane, derailed not far from the local train station.
The population of the village is about 700 people, Bulgaria's Nova TV channel reported.
Some of the tanks exploded after the derailment, destroying at least 50 buildings, and claiming seven lives.
"Seven people have died in the explosion in Khitrino, the number of wounded remains the same – 29. Some of them suffered severe injuries," local fire department chief Nikolai Nikolov told Bulgarian BTV news channel, adding that some people are still missing.
The number of casualties is expected to rise, Nikolov said.
At the moment, all of the residents have been evacuated, he added.
Some people have been transported to their relatives in nearby villages, while others are temporarily being housed in a military college building in the city of Shumen.
Security forces will protect evacuated houses from being looted.
"The explosion has also caused a fire. We do not expect a second blast, but the people from the village are being evacuated," Nikolov said, as cited by Reuters.
Twelve people were removed from under the rubble, with medics and firefighters still working at the scene.
The head of the local hospital, Atanas Atanasov, said that 23 people with injuries and burns were sent to them, TASS news agency reported.
It hasn't yet been established what caused of the derailment. The explosion caused significant damage, authorities said.
You can share this story on social media: