18K residents leave rebel-held parts of eastern Aleppo in past 24 hours – Russian military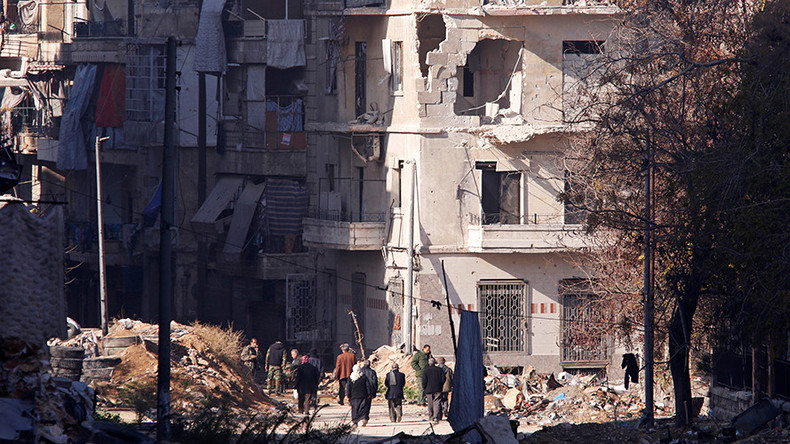 Almost 18,000 residents have left the rebel-held parts of eastern Aleppo in the past 24 hours, the Russian Center for Reconciliation in Syria says.
"The Russian Center for Reconciliation of the warring parties continues to assist local people leaving the areas that remain under militant control in eastern part of Aleppo. In the past 24 hours, some 17,971 residents, including 7,542 children, left the militant-controlled area with the assistance of the Russian Center for Reconciliation," it said in a statement.
A total of 28 militants laid down their weapons and crossed into the western part of the city to surrender to Syrian government troops. In accordance with the Syrian president's decision, they were amnestied.
Russian Army bomb disposal specialists continue to demine areas of the eastern neighborhoods of Aleppo that have been liberated from rebel forces.
Read more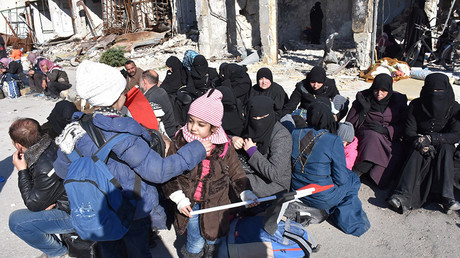 "In the past 24 hours, they demined a total area of 8 hectares. In addition, 24 buildings have been cleared from explosive objects, including one bakery, two schools, two mosques, one power substation, and some 4.5km of roads," the Center for Reconciliation said.
"Fifty-two neighborhoods in eastern Aleppo have been recaptured from militants. In the past four days alone, the area held by militants has decreased by one-third. The Syrian Army now controls 93 percent of the city's territory," the head of operations for Russia's General Staff, Lieutenant General Sergey Rudskoy, said on Friday.
On Thursday, the Syrian Army was said to have suspended active combat actions in Aleppo against Al-Nusra Front and other radical militants still controlling the area. Russian Foreign Minister Sergey Lavrov said the evacuation of civilians was prioritized over the advance.
In late November, the ministry announced that the Russian-backed Syrian operation had made a breakthrough in its push to retake eastern Aleppo, as Syrian troops liberated some 80,000 people living in neighborhoods in the rebel-held eastern part of the city.