Turkey reinforces Syria operation with 300 elite commandos – report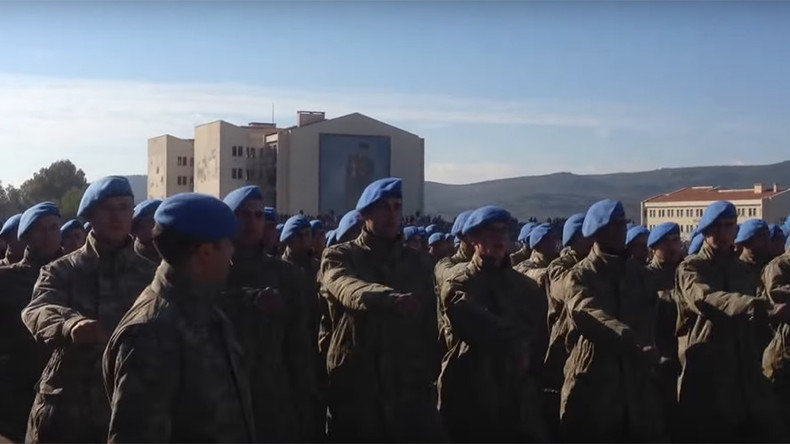 Some 300 elite Turkish commandos have reportedly joined Operation Euphrates Shield in Syria to help the Free Syrian Army's offensive against Islamic State terrorists and Kurdish militias that Ankara is engaging on a foreign soil.
The special forces troops of the 11th Command Brigade were airlifted to Syria from Cardak Military Airport in Turkey, a source familiar with the matter told Turkey's Anadolu News. No further details have been provided.
Turkish forces crossed into Syria on August 24, under the pretext of targeting Islamic State (IS, formerly ISIS/ISIL) positions along the border. Turkey has been supporting the Free Syrian Army (FSA) on the ground. As IS fighters melted away, however, Turkish troops involved in Operation Euphrates Shield clashed with the YPG militia, part of the US-backed Syrian Democratic Forces (SDF).
After months of fighting, Turkey has helped the FSA clear some 1,800 square kilometers (694 square miles) of terrorists in northern Syria. Having liberated the town of Dabiq, FSA advances were stopped near the town of Al Bab, where ISIS continues to hold the city.
"So far, about 1,800 square kilometers, from Jarabulus to Azaz, and south to Azaz, and up to the Al Bab region has been completely cleared of terrorists," presidential spokesman, Ibrahim Kalin, said Thursday. "It is very important to act very carefully in [the northwestern city of] Al Bab especially due to the large Daesh [IS] terrorist organization [munitions] stock there."
The Turkish Army announced Thursday that air and ground operations have been suspended around Al Bab, which is located 40km northeast of Aleppo and 30km south of the Turkish border.
The army fears that further engagement will jeopardize civilian lives as terrorists continue to use the local population as a human shield, Daily Sabah reported.
Capturing Al Bab remains Turkey's primary objective at the moment as Ankara continues its policy to establish a 5,000-square-kilometer "safe zone" in Syria. Securing the city will also prevent the YPG from establishing a corridor between the cantons of Afrin and Kobani.
The US, which has been supporting the Kurds for years, on Thursday said that it doesn't have any intention of creating a Kurdish corridor on the Turkish border.
"We are not trying to build a Kurdish corridor, this is not our policy. Our policy is to defeat Daesh. We are not supporting the creation of a Kurdish corridor. That is not part of our agenda, that's not our policy, we make that very clear to the Syrian Kurds," US Special Presidential Envoy for the anti-ISIS coalition, Brett McGurk, told Daily Sabah.
"We will support forces on the ground to fight Daesh. We will not support forces on the ground to pursue any other agenda," the envoy stressed. "That means if the Syrian Kurds are going to go fight somebody else, they are going to get no support from us for that."