US may be complicit in Yemen 'war crimes' – HRW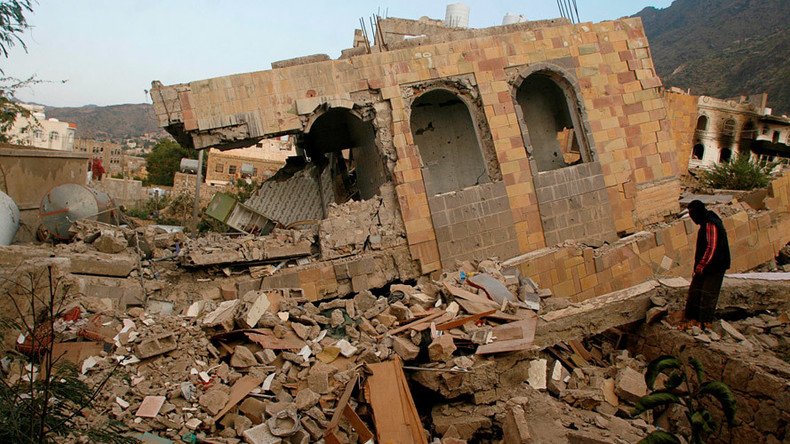 The US may be complicit in "atrocities" that are taking place in Yemen as part of the Saudi-led military operation, a recent Human Rights Watch (HRW) report suggests.
More than 160 people were killed over a one-month period in airstrikes in Yemen, carried out by the Saudi-led coalition using bombs and missiles bought from the US, the New York-based human rights activist group said Thursday. HRW also urged the imposition of an arms embargo on Saudi Arabia over the war in Yemen.
"The Obama administration is running out of time to completely suspend US arms sales to Saudi Arabia or be forever linked to Yemen wartime atrocities," Human Rights Watch researcher Priyanka Motaparthy said.
The Saudi-led coalition allegedly used US weapons in "unlawful attacks," including "the two of the war's deadliest incidents," the group said. The two attacks mentioned were the March 15 attack on Mastaba market, which claimed lives of 97 civilians, and an October 8 attack on a funeral hall in Sana'a, in which at least 100 people died and more than 500 were wounded.
"Both attacks appear to have been war crimes," the report says.
The group examined some of the remnants of the weapons found at the sites of the attacks and confirmed they were American made.
The report features findings from an investigation into an air raid in Arhab, a town north of capital Sanaa, in September that killed 31 civilians and wounded more than 40.
Another attack, in the Red Sea port city of Hodeida, hit a house near a funeral ceremony, leaving more than 28 civilians and wounding 32, the group said.
"Governments selling weapons to Saudi Arabia cannot, with any credibility, rely on either coalition or Yemeni-led investigations to determine whether these weapons are being used against civilians. The US, UK, and others selling weapons to Saudi Arabia should suspend these sales until unlawful attacks are curtailed and properly investigated," Motaparthy also said.
In an earlier report published on December, 6, the human rights group said that it probed seven US airstrikes that took place from 2009 to 2013 and established that "at least 57 of the 82 people killed were civilians, along with possibly 14 others, 12 of them in a strike on a wedding convoy."
A Saudi-led coalition backed by the United States started an air-to-ground campaign against Houthi rebels in March 2015, acting on behalf of Yemen's officially recognized government. The Houthis had seized much of northern Yemen by that time, including the capital city, Sana'a.
Almost 4,000 civilians have been killed and more than 6,000 injured in the conflict between March 2015 and 23 August 2016, the UN reported in August. At least 7.6 million people, with three million women and children among them, are suffering from malnutrition while at least three million people were displaced.
You can share this story on social media: