Tsunami warnings after 7.8 quake strikes off Solomon Islands' coast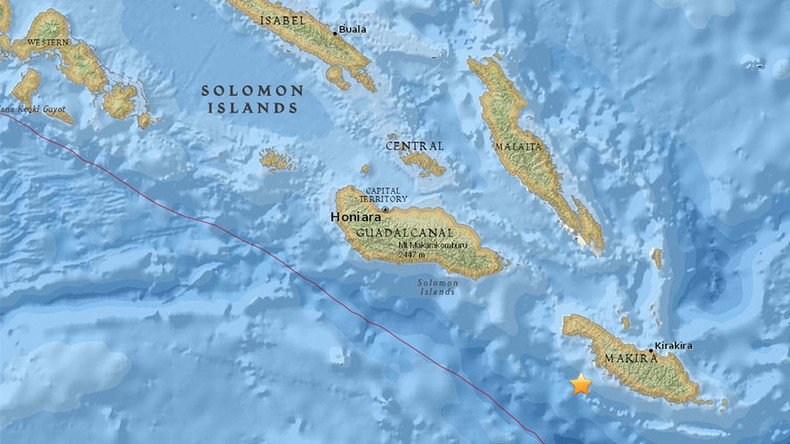 A tsunami warning has been issued for the Solomon Islands, Vanuatu, Papua New Guinea, and Nauru after a 7.8 magnitude earthquake struck 70km off the Solomon Islands, according to USGS.
The USGS initially reported the quake as 8.0, but later downgraded it to 7.8.
"Hazardous tsunami waves from this earthquake are possible within the next three hours along some coasts of Solomon Islands, Vanuatu, Papua New Guinea, Nauru, New Caledonia, Tuvalu and Kosrae," stated the warning issued by the Pacific Tsunami Warning Center.
A tsunami watch was also issued for all Hawaiian islands, the US National Weather Service reported.
It was later canceled, as based on "all available data there is no tsunami threat to the state," the Pacific Tsunami Weather Center reported.
The center called on the government agencies responsible for dealing with emergency situations to "take action to inform and instruct any coastal populations at risk in accordance with their own evaluation."
The epicentre of the quake was registered at a depth of 48.7km, according to USGS.
Another earthquake with a preliminary magnitude of 5.5 hit 66km west of Kirakira, Solomon Islands, according to USGS.
Two 5.1-magnitude aftershocks rolled through the same area at a nearly 20-minute interval, according to USGS data.
Earlier on Thursday, the USGS reported a 6.5-magnitude tremor about 160km off the northern California coast. It caused weak to light shaking in coastal communities in parts of California and Oregon. The epicentre was located at a shallow depth of 10km and 165km west of Ferndale, California, according to the agency.
We are currently assessing whether the 8.0 magnitude earthquake in the Solomon Islands poses a tsunami threat to NZ.

— MCDEM (@NZcivildefence) December 8, 2016
The Solomon Islands are located close to the so-called Ring of Fire, or the circum-Pacific belt. The Ring of Fire is frequently hit by earthquakes and volcanic eruptions. Nearly 90 percent of all the world's earthquakes and 81 percent of the world's largest earthquakes take place along the Ring of Fire, which is associated with a nearly continuous series of oceanic trenches, volcanic arcs and belts and plate movements.
The Ring of Fire – which is more a 40,000-kilometer (25,000-mile) horseshoe than an actual ring – stretches from the southern tip of South America, up along the coast of North America, across the Bering Strait, down to Japan and into New Zealand.
You can share this story on social media: